Rand Paul Is Slamming the Patriot Act and NSA Surveillance in a Marathon Senate Speech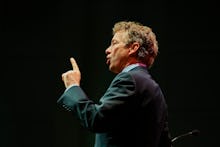 Republican presidential candidate Rand Paul, the junior senator from Kentucky, has launched a new filibuster-style protest to delay a Senate vote on extending the controversial mass surveillance program at the center of the post-9/11 Patriot Act.
Paul took the Senate floor at 1:18 p.m. on Wednesday afternoon. If he continues speaking up to the Thursday noon deadline for debate on that bill, he will have successfully delayed the Senate calendar and heaped added pressure on colleagues angling to save one of the NSA's bulk collection of domestic phone data. That program — operating under the auspices of Section 215 — is set to expire at the end of the month.
"There comes a time in the history of nations when fear and complacency allow power to accumulate and liberty and privacy to suffer," Paul said as he began his long diatribe. "That time is now and I will not let the Patriot Act, the most unpatriotic of acts, go unchallenged."
In the clip below, Paul explains his reasoning and pushes supporters to his website prior to taking the floor. Despite his choice of words, it is not an actual filibuster. The law Paul is railing against is not up for debate and the bill he is expected to oppose has not yet been brought up on the floor. Paul's endgame is publicity for the issue and, more cynically, his glorified opposition. 
In the three hours after he began, Paul's campaign sent 21 tweets, most of them with links to information on how to join or donate to his candidacy. Most include #StandWithRand, a hashtag he popularized during an actual filibuster in 2013, that now appears on assorted campaign paraphernalia. 
Who's standing with Rand now? Utah Republican Mike Lee and Oregon Democrat Ron Wyden, both staunch opponents of NSA surveillance tactics and Section 215 in particular, are taking turns asking Paul questions in the form of mini-speeches. Another Democrat, New Mexico's Martin Heinrich, rose to join their effort a little before 5:00 p.m. In effect, the senators are bolstering Paul's bid to make it through the night by allowing him a break from speaking while they make their own cases against the program.
But there is significant opposition from both sides of the aisle. Sen. John McCain (R-Ariz.) was among those uninterested in partaking of Paul's prolonged chat. 
"If he does, that's fine. It'll be a 12-hour delay and he'll get his headlines and we'll move on," McCain told BuzzFeed. "There's an old saying that goes 'the dog barks but the caravan moves on.' ... It'll last however long his bladder lasts." (Note: Paul was able to hold it for more than 12 hours during a March 2013 filibuster centered on concerns over the administration's drone warfare policies.)
This time, Paul can only delay what he concedes is almost inevitable. 
"We do not have the votes to ultimately defeat the Patriot Act," he said at an event in Philadelphia on Monday, according to the Associated Press. "I can delay it. I can force them to debate it so the public at large can know what they're doing."
The alternative: Paul wants Section 215 to expire without any kind of extension. He also opposes a new bipartisan bill called the USA Freedom Act, which the GOP-held House of Representatives passed last week. That bill would renew most portions of the Patriot Act, but end bulk data collection under Section 215 and require phone companies to retain their own records. Paul argues that the USA Freedom Act doesn't go far enough in reining in government surveillance and has said he will vote against the bill when McConnell brings it up in the Senate.
The final vote on the USA Freedom Act will be close. If defeated, supporters of Section 215 are expected to push for short-term continuation of the law, meaning Paul's "filibuster" will have been, in the final accounting, little more than a campaign stunt.
For now, though, we'll just have to wait, and watch: Here's a livestream of Paul, still rolling, on the Senate floor.