11 Classic Lyrics From Badass Female Musicians Remind Us About What Really Matters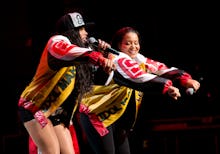 Female-penned songs are among the best snapshots of womanhood — voices for the feelings and thoughts all women have, but many don't get the opportunity to voice. 
But even famous female musicians have historically struggled to find a mass audience; as recently as 1984, only four women cracked the Billboard Hot 100 top 10 — all year. That's changing, though, and along with it, society's attitudes toward women as equal members of society. In 2014, a milestone year for women in music, females held eight spots in the top 10 in September alone.
It's thanks to these bold, badass female musicians of the world that women — in music and around the world — are finally being heard. Here are 11 times when female musicians sang empowering lyrics in an attempt to change the way we think about womanhood for the better. 
Female trio TLC released "Unpretty," written by T-Boz, as the second single from their 1999 album, FanMail. In a recent interview with Rookie Mag, T-Boz said, "My thing is to give somebody something relatable, like in those lyrics, and to show there is an upside. You can overcome... So that's what I hope people get from our music — to feel better about themselves."
No Doubt released this girl-power head-banger on their 1995 album, Tragic Kingdom. Lead singer Gwen Stefani has always been hesitant of calling herself a feminist, but that doesn't mean her music doesn't carry the torch of feminism. 
"I would never take that responsibility on, but I love when people discover their own opinions about a song," she told PopSugar last December. "And if that's the thing they find in it? Wow. I would be honored. But really, I didn't write 'Just a Girl' as a feminist anthem. I wrote it because my dad wouldn't let me drive late at night!"
"Bitch" by Meredith Brooks
No, this song is not by Alanis Morissette, despite the fact that even people in 1997 thought it was. It was actually written by Brooks for her debut album, Blurring the Edges. Brooks told Entertainment Weekly in 1997 the song "simply means that when we don't honor every mood we're in, we move away from it and don't notice what's really going on with us... I think most people get the point that it's not about a bitch — it's 'I'm a bitch, I'm a mother, I'm a child, I'm a lover,' I'm all these things."
The singer-songwriter released "Just One of the Guys" in 2014 as the single from her third album, The Voyager. And for the now-famous video, she recruited A-listers Anne Hathaway, Brie Larson and Kristen Stewart to dress up in drag and jam out.
The song is "about many things, but in the end, for me, the song centers around the bridge: 'I'm just another lady without a baby,'" Lewis told NPR. "I think the song is really about the freedom of choice. You can be a professional woman, and you can choose to not have children if you want to. And the pressures you feel from that, which are inevitable, it's ultimately your choice. And it's cool either way."
Jett released "Bad Reputation" as her first solo single in the early '80s, and the song cemented her status as a legendary songwriter. And it firmly launched her legacy as one of the baddest female rock stars of all time.
Jett's cowriter, Kenny Laguna, told The Dancing Rest, "When she was singing those lyrics, it was radical because there were no girls doing anything other than what they were supposed to do, they were all supposed to be like the girl groups. They were supposed to be dainty, wear dresses. They weren't supposed to play instruments. The song was definitely autobiographical."
"Oh No!" by Marina and the Diamonds
Singer-songwriter Marina and the Diamonds released "Oh No!" as the fourth single from her debut album, The Family Jewels in 2010. Marina, who is Welsh, wrote the song during a trip to Los Angeles.
"It was written in response to be terrified of not achieving what I say I want to achieve every time I open my big mouth," she said, according to Genius. "I was paralysed by fear before my trip to the states and couldn't stop thinking about being a failure, etc., and was convinced that I'd become a self-fulfilling prophecy if my brain didn't shut up and stop being so negative."
Clarkson recorded "Invincible," which was written by Sia, for her latest album, Piece by Piece. Clarkson recorded much of the album when she was pregnant, and says that affected the way she performed. "I was more passionate," she told Radio.com. "The vocals were very raw, the vocals were very honest sounding. Not that I haven't been passionate or honest in the past, but it was just... enhanced."
"Video" by India.Arie
On R&B singer-songwriter India.Arie's debut album, Acoustic Soul, "Video" was the first single. And it was nominated for four Grammy Awards in 2002.
She labels herself as a musician whose job it is to "spread love, healing, peace and joy through the power of words and music," though she admits that it hasn't always been easy. In an interview with Oprah Winfrey, the singer said, "What I was afraid of was being judged. I realize now that I have always been so judgmental."
This 2013 anthem by the country singer is about acceptance and self-confidence. It made waves for taking a progressive stance on two topics that are rarely addressed in country: women's issues and LGBT acceptance.
"I hope it gets attention because I think it's definitely time for those issues to be accepted in country music," she told Radio.com. "Regardless of your political beliefs, everybody should be able to love who they want to love and live how they want to live. We're all driven by the same emotions; we all want to be loved and want to feel the same things. So, hopefully people will put aside their personal, political agenda and just agree with that fact."
This song is from '90s female hip-hop trio Salt-N-Pepa's fourth album, Very Necessary. The single won a Grammy in 1994 for best rap performance by a duo or group, making Salt-N-Pepa the first females to win a rap Grammy.
In 1995, Cheryl "Salt" James told Interview, "When we get raw and sexy some people say, 'Why do you have to go there?' I feel like, as long as you're letting the world know that you're intelligent and you're to be respected and you have a mind of your own and you're taking care of business, ain't nothing wrong with showing off what you got, especially when you work out almost every day to get it."
"Stripes" by Brandy Clark
This kickass single from country singer Clark details the imaginary woes of a woman who finds her man cheating. As part of the girl-power movement that's taken over Nashville as of late, Clark takes revenge fantasy to a new level. "I feel, with the women in Nashville, there's a real team spirit there," Clark told Spin in 2013. "Just wanting to get our voices heard, and there's no reason why we can't all be heard."