15 Photos of the 100,000 Gallon Oil Spill That's Devastating California's Coast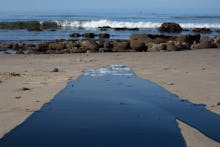 On Tuesday an underground oil pipe burst has prompted California Gov. Jerry Brown to issue a state of emergency late Wednesday night for Santa Barbara County after tens of thousands of gallons of oil began leaking into the Pacific Ocean off the coast near Refugio State Beach.
The oil started flowing when an underground pipeline carrying it to a refinery began leaking into a tunnel under a highway. The crude ultimately found its way into a storm drain where it then emptied into the Pacific Ocean. 
Plains All American Pipeline, the Houston-based oil company responsible for the spill, said the leak involved up to 105,000 gallons of oil of which more than 20,000 may have spilled into the sea. 
As of Thursday morning, it was unclear whether the spill had been fully contained, but photos from the cleanup indicate that even from this relatively small incident, the damage had been extensive,
The spill comes amid increasing evidence that the damage caused by oil spills lingers long after their initial effects are papered over. 
The persistent impact of the 2010 Deepwater Horizon oil spill on the local ecosystem remains profound. Oil from the spill continues to kill local vegetation and even made an entire island disappear off the coast of Louisiana by destroying the mangrove roots that had held it together. When the island sank into the sea, it took with it numerous bird species, some endangered, which had once nested there. 
Going back still further, effects from the Exxon-Valdez oil spill in Alaska, more than 25 years ago, continue to leave a number of former sea populations absent from local waters. As of 2010, less than half of the area's previous wildlife have "fully recovered," according to Alaskan government sources.  
The California spill, which is small and likely to be brief, is still another reminder of the dangers of fossil fuels and America's continued reliance on them. When wind farms and solar panels malfunction, they don't destroy their surrounding ecosystem. Hunting for yesterday's energy is an increasingly unsustainable course, and one that needs to be corrected.