Maggie Gyllenhaal Reveals Ageism Is Alive and Well in Hollywood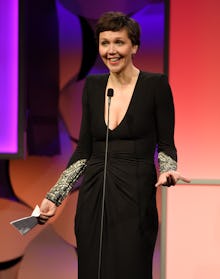 Who would you cast as the love interest of a 55-year-old heterosexual man? In the film industry, not a 55-year-old woman. That would be out of the question, as would be a woman in her 30s, according to actress Maggie Gyllenhaal, who recently learned this firsthand.
Gyllenhaal, 37, did not disclose the details of the project but said she was told she didn't get the part because she was "too old" to portray the love interest of a 55-year-old man, she told the Wrap on Thursday.
The feedback, she said, "made me feel bad, and then it made me feel angry, and then it made me laugh."
While Gyllenhaal may approach such clear discrimination with a sense of humor, there are plenty of other actresses who don't find Hollywood's persistent sexist, ageist double standard amusing. 
"Women don't stop consuming cultural products once they stop menstruating," Cate Blanchett told Vogue Australia for its April issue, arguing that older women viewers want and deserve to see themselves reflected in the media.
"By the time you're 28 you're expired, you're playing mommy roles," Zoe Saldana told the Telegraph in July 2014. "We're not the ones putting ourselves in those places. We're allowing ourselves to be put in those positions. I just won't allow it."
Ageism is hardly the only form of sexism women in Hollywood experience. In fact, the American Civil Liberties Union is investigating Hollywood's hiring practices — especially in terms of the disproportionate hiring of male directors. The numbers support the validity of the investigation: Women accounted for only 16% of the writers, directors, producers, executive producers, editors and cinematographers of top-grossing movies of 2013, according to the Women's Media Center, and only 28.4% of speaking roles in the top 100 films of 2012 went to women.
The discrimination hardly ends once women get hired in Hollywood. Women are paid less than their male costars for doing the same work, and face a barrage of gendered double standards in the industry at large — like the recent, already notorious high-heel mandate at the Cannes Film Festival.
This is why it's crucial that women in the industry, like Gyllenhaal, speak out about the discrimination they face. As long as women in the industry tacitly accept this treatment, change will be impossible.
h/t The Wrap