Foo Fighters Just Ended David Letterman's 33-Year Late Night Career With This Song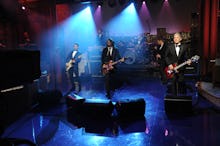 David Letterman's final show on CBS aired Wednesday evening, and Foo Fighters, his favorite band, were there to mark the end of an era. Dave Grohl and company took the Late Night stage a final time to play one of Letterman's favorite songs, "Everlong." The band played an extended version of the song while a reel played all the best Late Night memories, from Letterman's first night to his last. 
Wonder if he asked Taylor Hawkins, "Are those your drums?" 
Letterman has a long history with Foo Fighters, so it's only fitting that they were his final musical guest. Back in 2000, when Letterman returned to Late Night after taking a break for heart surgery, Foo Fighters left their scheduled tour just to play "Everlong" on his first night back. Letterman called the performance, "my favorite band playing my favorite song."
And in 2014, Foo Fighters returned for a weeklong residency on Late Night that coincided with Grohl's HBO documentary miniseries, Sonic Highways. One night, after a performance during that residency, Letterman shared with the audience a story about his personal connection with Foo Fighters. 
"Years and years and years ago when I became a father, I recognized I was older than most fathers, and so did my son," Letterman said, according to Rolling Stone. "And so I said I have to find something I can do with my son and we can do it together." He took his son skiing in Montana, and the resort filmed the two of them and sent the video to Letterman; their skiing was set to Foo Fighters' "Miracle."
"This is the second song of theirs that will always have great, great meaning for me for the rest of my life," Letterman said.
Foo Fighters' final performance was a poignant tribute to a legendary man.