Hannibal Buress' Description of Using Tinder Might Be Our Favorite So Far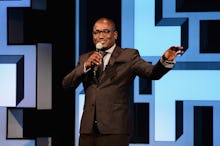 Tinder is sexy! Tinder is chock full of hookups! Tinder is... well, let's be honest: Actually sitting through those one billion daily swipes involves a lot of things that don't mesh with its cool image.
Comedian Hannibal Buress, hosting the 2015 Webby Awards on Monday evening, spoke to the true nature of the matchmaking behemoth. "Everyone's talking about Tinder," Buress said at the awards ceremony, according to the Huffington Post:
"They're saying things like, I got chlamydia from a chick off Tinder, or I matched with this girl on Tinder but she turned out to be a bot advertising a TV show about online dating."
"Tinder proved that the most important quality in another person is not their personality, but their proximity," he added. In other words, the dating app is anything but magical, sexy and seductive. 
A seriously unsexy dating app: Tinder, honored with the Webby Breakout of the Year award, has achieved a lot in the past year, including 50 million monthly users and "a unique interface that's inspired knockoffs," as the Huffington Post noted. The app's founders maintain that it's changed the world for the better and sparked new connections — think marriages and future Tinder babies.
Yes, tons of connections have been made. But Tinder's also integrated fake profile ads to market TV shows, been blamed for skyrocketing sexually transmitted infection rates and been paraded around in Hilary Duff music videos (a real high point). When we finally do weed through the debris to make matches, we're hit with the sense that Tinder isn't just about finding a partner — it's a dick pic playground, a selfie minefield, without much promise of even sex, much less coupledom. It's all a game, guys.
"Online, it can sometimes feel like you're talking to an avatar — an empty shell that doesn't actually belong to a real person," Mic's Sophie Kleeman wrote after experimenting with using Tinder pickup lines on men. 
Someone might want to inform Emma Stone and Bradley Cooper, who were recently asked by People to describe what they would write on each other's Tinder profiles. Cooper wrote that Stone's "reptilian eyes take you into a kind place, soft and lovely and full of grace." Stone on Cooper: "Look at those blue [eyes]. He's into Chinese food, but he's equally into making you smile." 
Flattering? Of course. But any real Tinder user knows that the app isn't littered with poetic descriptions of each other's eyes. Luckily, we have Hannibal Buress to drop the grittier — or at least lamer — truth.