Spotify Has Figured Out How to Give You the Perfect Morning Run — And It's Amazing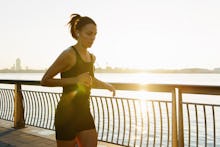 Spotify wants to make your workout buddy obsolete. On Wednesday, the streaming service launched a slew of new features, including streaming video from players like ESPN, Comedy Central and Vice Media, a smarter recommendation AI, podcasts and original content. But the most exciting new feature is clearly Spotify Running.
It's a sophisticated new workout aid that will be able to instantaneously curate playlists matching your running preferences and the pace of your run. Prepare to tear it up.
The tech. The newly upgraded Spotify will utilize your smartphone's sensors to determine your jogging pace. From there, Spotify will create a playlist matching your footfalls to BPMs, and cue up a playlist drawn in part from your listening history. It will also mix in "original running compositions written by some of the world's foremost DJs and composers," according to the launch announcement on the company's blog. One of these DJs is house icon Tiësto, who made a brief appearance at the launch event, according to TechCrunch.
The platform will include six "Running Originals" at launch. According to Wired, these tracks will utilize "a new file format that can change its tempo based on your running rhythm." But these changes aren't just "simple beat stretching," Gustav Söderström, Spotify's chief product officer said, according to TechCrunch. Instead, he said, "the composition itself seems to rearrange to fit your current pace."
The science behind the perfect run. This new feature is potentially game-changing for runners. Several research studies have found that music can improve running performance in a few ways. According to a 2012 study shared by PLOS One, properly paced music can help synchronize runner's respiratory and locomotor cycles, resulting in less wasted motion. Music can also block out a runner's perception of fatigue, so they can run longer and harder.
"I often refer to music as a legal drug," Costas Karageorghis, sport psychologist at Brunel University London and co-author of Inside Sport Psychology, told ESPN magazine in January.
Karageorghis' research has found that running with the right music can decrease perceived effort by up to 10%. But that effect can only happen if the runner's music is enjoyable and properly paced — two things Spotify's new running feature will hopefully ensure.
With all these incredible new features, Spotify may have officially confirmed its dominance over Tidal in the race to become the premiere streaming platform. It will likely only push Tidal further into obscurity. But in this competitive hustle, the consumer is clearly winning — the runner specifically. Enjoy your workout.
h/t Wired