Virtual Reality Let a Boy With Muscular Dystrophy Play Piano in Real Life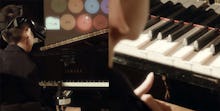 Oculus Rift, the majorly hyped virtual reality headset poised to make its retail debut in 2016, has a competitor quickly approaching. It's called FOVE, and it's the first eye-tracking VR headset.
Why that's cool: FOVE's technology reads your pupils and, every time they move, compensates. Instead of turning your head to see the world "around" you, just move your eyes — FOVE will do the rest.
It allows for extra depth perception, making the headset feel less like there are screens in front of your eyes and more like you're actually standing wherever the scene takes you. 
Because it also responds to blinking, you can select or shoot things using only your eyes.
"Because FOVE knows exactly where the user is looking with imperceptible delay, we can enable a technique called 'foveated rendering,'" FOVE co-founder Lochlainn Wilson says in the Kickstarter video. "This allows us to focus the fidelity on the part of the vision that matters most."
That means being able to make eye contact with characters in a game or aim a weapon with your eyes.
But beyond gaming — which, yes, will be extremely cool — the team at FOVE has found more rehabilitative uses for their new device.
Since everything in FOVE is controlled with eye movement, children with limited mobility caused by paralysis or muscular dystrophy were able to simulate a mouse and keyboard to use a computer, or control a tiny robot to look around the room and give instructions — using only their sight.
FOVE's Eye Play the Piano project let a child with muscular dystrophy lead his school choir. He plays piano with a program that lets him pick notes and chords just by looking at them and blinking.
According to FOVE, this technology is currently being tested around the world. The founders say they want FOVE to eventually be able to track emotion through facial movement, allowing the device to be fully communicative through facial expression alone. That's a major leap forward not just for gaming, but for helping people with muscular disabilities communicate freely and comfortably.
Only a few days into its campaign, FOVE has already raised more than $230,000 of its $250,000 goal. It won't be long before we see it come to fruition — and give Oculus Rift a run for its money.
h/t PC Mag