'Mad Men' Creator Matthew Weiner Just Revealed the Truth About That Coke Commercial Ending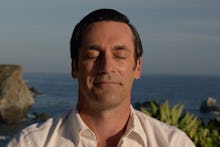 Spoiler alert: This post reveals details about the series finale of Mad Men.
Did Don Draper write the famous "I'd like to buy the world a Coke" ad? That was the question on every Mad Men fan's mind after Sunday's series finale. The arguments that he did produce it were swift and passionate — and, as it turns out, correct.
At an event Wednesday at the New York Public Library, Mad Men creator Matthew Weiner confirmed that Don had indeed written the popular '70s ad spot known as "Hilltop." 
"I have never been clear, and I have always been able to live with ambiguities," the showrunner told moderator and novelist A.M. Homes, as reported by the Hollywood Reporter. "In the abstract, I did think, why not end this show with the greatest commercial ever made? In terms of what it means to people and everything, I am not ambiguity for ambiguity's sake. 
"But it was nice to have your cake and eat it too, in terms of what is advertising, who is Don and what is that thing?"
In the episode, it's inferred that Don took his experiences from his yoga retreat at a place modeled after the Esalen Institute in California. Following the episode, fans started digging for further clues, finding similar costuming choices in the ad and the episode.
Weiner providing a concrete answer as early as he did helps to prevent years of speculation, like what followed The Sopranos' infamous fade-to-black finale. That show's creator, David Chase, recently revealed the truth behind said ending, to the consternation of some.
By stopping the wild theories now, Weiner has perhaps indicated he learned a lesson from his former boss and mentor: Ambiguity and subtlety are intriguing, but a definitive ending can let your beloved characters rest in peace. Even without a vague finale, Mad Men will stand as one of the influential pillars in TV history.