Kendrick Lamar and Lady Gaga's Unreleased Song Is Finally Here After Three Years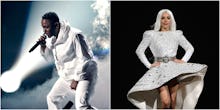 In 2012, Kendrick Lamar and Lady Gaga were supposed to release a collaborative track, "PARTYNAUSEOUS," to appear on Lamar's major label debut, good kid m.A.A.d. city. But the album came and went, and with it — no Gaga. Three years later, that majorly hyped collaboration is finally here.
Source: Soundcloud
The song fits the ethereal, spaced-out vibe that good kid m.A.A.d. city's second half cultivates so well. In terms of the narrative, it probably would have fit somewhere near "Swimming Pools," which tells the story of Kendrick Lamar getting nauseous at a party. But despite Gaga's enthusiasm at the time of the track's announcement, it never made the cut.
Gaga explained there were "creative differences" in a 2012 post on her website.
Gaga was also slated to appear singing the hook on Lamar's "Bitch Don't Kill My Vibe." That version leaked in November 2012, and Lamar definitely made the right choice in cutting it. His pitch-shifted, extraterrestrial hook is far more thrilling and unique than Gaga's stripped-down vocals.
All in all, good kid m.A.A.d. city was likely a lot better off without Gaga, as strangely compelling as their pairing appears on the surface. And though neither of the songs is good, "PARTYNAUSEOUS" is still not half as rough as Lamar's Mary J. Blige cut of "Now Or Never," which appears on GKMC's deluxe edition. 
Lamar's been in the news lately for his collaborations with other bona fide pop stars. It's clear, though, that Lamar has far better chemistry with Taylor Swift, as his recent verses on her "Bad Blood" remix prove, than he ever did with Gaga.
h/t Smoking Section