Bill Nye Just Warned College Graduates About the Greatest Threat Since World War II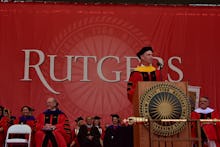 On Sunday, William Sanford Nye, more commonly known as "Bill Nye the Science Guy," delivered the Rutgers University Commencement speech to the graduating class of 2015. Nye's words came with a strong message: Climate change is a very real threat that we can no longer ignore.
In fact, according to Nye, the threat of climate change should be taken as seriously as previous generations took the threat of World War II. The world faces "the most serious environmental crisis in human history," Nye told the graduating students.
While his message was stern, he also offered optimism, saying he firmly believed the upcoming generation could tackle the problem if they address it in a focused way, whether through voting in politicians who take the issue seriously or by developing new technologies. 
No matter the direction, the call to change is one that must be heard.
Tougher regulation to ensure responsibility, Nye said, is just one of the necessary changes. "Right now, it's still too easy for any of us to dump our carbon waste in the world's atmosphere. We are going to need thoughtful, reasonable, fair and tough."
Climate talk? Though climate change might not seem like the hottest topic for a commencement speech, President Barack Obama also spoke on the issue when he addressed the graduates of the U.S. Coast Guard Academy. The president called climate change a "threat to global security."
"Climate change will impact every country on the planet. No nation is immune," Obama told the 218 graduating cadets, CNN reports. "Climate change constitutes a serious threat to global security, an immediate risk to our national security, and, make no mistake, it will impact how our military defends our country. And so we need to act — and we need to act now."
Nye offered America a similar important reminder: We must prioritize climate change in our social and political endeavors because, if we don't, we will all pay a very high price for our negligence.