Here's What Happened When a Little Girl With Epilepsy Tried Medical Marijuana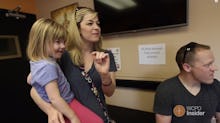 Since being treated with medical marijuana after moving to Colorado, a 3-year-old girl with epilepsy saw the number of seizures she suffered daily fall from more than 100 to fewer than 10.
To combat her seizures, Addyson Benton's family relocated to the Denver area, where they could legally purchase a marijuana-extract specially designed for Addyson that has THCA, a biosynthetic precursor of THC, the active component of cannabis. 
In an interview with ABC affiliate WCPO, Addyson's mother Heather Benton explained, far from babies with bongs, her daughter's treatment comes in the form of a simple non-psychoactive patch.
"[It's] just like a nicotine patch," Benton told Mic. 
Within hours of taking the patch, Addyson's health improved dramatically. In addition to the drastic drop in daily seizures, Addyson's mother told Mic she also noticed improvements in her ability to walk and say new words.
"Not even a week of being here she said her name ... she had never said her name before," Benton said.
In order to secure the treatment she needed, Addyson's family relocated from their home in Ohio, where medical marijuana is still prohibited, to Castle Rock, Colorado, a city roughly 30 miles south of Denver, itself a growing hub of both recreational and medical marijuana. To help offset the move's $10,000 price tag, Addyson's aunt set up a GoFundMe page that managed to raise more than $3,000.
"I didn't want to lose her," Benton told Mic, explaining she was afraid the state would seize Addyson if they attempted to administer medical marijuana illegally in Ohio. "We've seen so many stories on Facebook about it; we were not willing to chance that."
Though Addyson was able to secure some relief in the Centennial state, moving to Colorado isn't an option for many.
At the state level, less than half of the country makes provisions for those seeking medical marijuana to treat afflictions like epilepsy. While more and more states are getting there (even some unlikely ones, like Texas) every day spent tied up in committee hearings delays this potentially life-saving treatment from coming to people like Addyson. 
Putting aside the debate about the safety of recreational marijuana, which itself has largely been settled, there is now almost universal consensus that medical marijuana can be an effective and powerful treatment for a multitude of ailments. Study after study after study has found medical marijuana can have profound positive effects on not just epilepsy, but Crohn's disease, multiple sclerosis and even irritable bowl syndrome.  
"It breaks our heart to think of all the kids who are left behind because they can't afford to move out," Benton told Mic. "I can't help but think that if [Ohio] Governor [John] Kasich were faced with this from his own grandchild ... that he wouldn't make a difference or a change for Ohioans." 
With the growing body of evidence, it is patently unjustified that cannabis remains a federally classified Schedule I substance (alongside more odious things like Heroin and and LSD.) Stories like Addyson's shouldn't be the news; they should be the norm.