Chic Released a New 'Get Lucky' Two Months Ago and Nobody Is Talking About It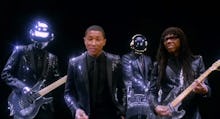 In March, Nile Rodgers and Chic released what they called their first song off their first album in 23 years, "I'll Be There." But that's only barely true — the band's influence is so pervasive that every year brings new songs full of Chic's influence. There are tracks that sample Chic (Modjo's "Lady"), tracks that settle for imitation (those by Chromeo and Maroon 5, Pharrell's entire GIRL album, and many, many more) and tracks that use Rodgers' collaborating skill to great effect (Daft Punk's "Get Lucky," Avicii's "Lay Me Down," Mystery Skull's "Magic"). Chic is one of the most influential groups in the history of music, but few understand just how much of modern pop is built on their foundation.
You probably haven't heard "I'll Be There," but most everyone has heard Daft Punk's legendary song of the summer, "Get Lucky." It was a perfect slice of '70s disco, made by Daft Punk and made perfect by Rodgers' guiding influence. Two summers later, Rodgers has done it again — but this time, nobody noticed.
Chic: In part, that's what makes "I'll Be There" a true Chic record: It's been mostly ignored. The song is a close cousin to "Get Lucky," and — depending on how you feel about Pharrell's audible squeak in the 2013 track's high — you might prefer the gospel-leaning vocals in "I'll Be There." A jaunty brass section adds heft and even currency to Chic's return — after all, Mark Ronson and Bruno Mars' "Uptown Funk," a horn-driven funk song, was the top hit in the country for months this year.
Ronson's hit is further evidence of the retro-pop moment Rodgers launched with "Get Lucky." Nostalgia for disco — a form which Chic dominated in the '70s — is especially pervasive. According to the Guardian, "Between July 1977 and August 1979, 30 out of 38 U.S. Billboard No. 1 singles were disco records." Chic had a couple of these and came close again with Sister Sledge's "We Are Family," which Rodgers and bandmate Bernard Edwards wrote and produced. Disco went on to spawn a large portion of the world's dance music, as well as the first big rap single, Sugarhill Gang's "Rapper's Delight." The band's trajectory changed after the famous Disco Demolition night in Chicago in 1979. According to Rodgers' memoir, that event left him with a "post-traumatic-stress-like disorder" and he "vowed not to write any songs with that word in them for a long time." The group stopped having chart success around this time.
But even when the band couldn't buy a hit, Rodgers produced and wrote some of the biggest projects of the '80s, including Diana Ross's Diana, David Bowie's Let's Dance, Madonna's Like A Virgin, Duran Duran's Notorious and the B-52's Cosmic Thing. Rodgers and Chic are quite simply one of the most influential bands of all time. They breathe the same rarefied air as the Beatles, James Brown or Prince.
The unexpected resurrection: In the '00s Rodgers didn't record much, but when Daft Punk released "Get Lucky" in 2013, Chic was suddenly relevant again. Pharrell says he met Daft Punk at a Madonna party; when they finally connected in Paris, they discovered coincidentally that they were both in a major Nile Rodgers phase. As Pharrell put it, they wanted to go back to "that magical time when music, and the liveliness of music, is what moved people." Sure enough, "Get Lucky" was a smash from the get-go, the subject of numerous "song of the summer" think pieces. It sold millions of copies, racked up over 104 million streams on Spotify by the end of August 2013 and, of course, went on to win a Grammy. 
Rodger's latest effort, "I'll Be There," deserves the same attention. It's close cousins with "Get Lucky." Both ride his guitar style, swift and fluid, authoritative and movement-compelling but full of rounded, cushy edges and inviting seams. There's even a manipulated burst of vocals that blatantly nods to Daft Punk's love of vocoders.
In the track's video, model Karlie Kloss dances around in her underwear on top of a heap of classic records that Rodgers was involved in. It's a bold assertion of the guitarist's place in history — and his claim to a hit of his own. But you can't find "I'll Be There" anywhere in the Billboard Hot 100, and it hasn't appeared in the early "song of the summer" predictions. Here's hoping Rodger's luck changes.