This Woman's Boob Selfie Is Going Viral for the Best Possible Reason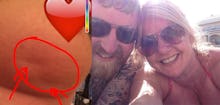 When Lisa Royle was diagnosed with breast cancer, her symptoms were barely visible: two tiny dimples. 
Surprised that such a small and almost unnoticeable symptom could indicate a disease, Royle, a 42-year-old woman from Manchester, England, decided to spread awareness about the importance of stringent self-examinations by posting a breast selfie to Facebook. Shortly after posting the photo on May 11, it went viral, with more than 46,000 likes and 72,000 shares,
Accompanying the photo, Royle wrote: 
"Ok so I never thought I'd post a boob picture on Facebook but I thought I would before it gets chopped off next week. So here it is..... This all that I found on my boob. Very subtle dimples underneath that could easily be missed when we're all rushing round getting ready in a morning. Please take time to look at your boobs. It could save you're life."
Along with the tens of thousands of likes and shares, support for Royle's speedy recovery flooded in. 
"You could of saved hundreds of lives with this pic hope you make a full recovery and soon thoughts xx," wrote one woman. 
"Thanks for raising awareness as I never realised a dimple was a sign. Stay brave and strong you WILL beat this horrid disease. I will be following your progress lots of love luck and best wishes xxxxxx," wrote another. 
Her husband, Craig Thomas Royle, posted an update after the surgery Monday letting all her supporters know the mastectomy was a success, writing, "Lisa is out of surgery and doing really well."
Signs of breast cancer can be hard to spot and women often don't even know what to look for other than lumps, meaning Royle's post could literally save lives. 
Campaigns directed at women trying to encourage breast self-exams have seen mixed success in the past, recently leading breast cancer organizations to target men instead with the mission of getting them to encourage their partners to conduct breast exams.
If you're not sure how to do it, instructions for the easy five-step breast self-exam can be found at BreastCancer.org. Try heeding Royle's advice and take a little time to take care of yourself. It's one of the most important things you'll do.