Here's Every State's Favorite Musician — in One Surprising Map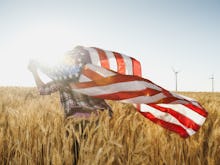 The final ballots are tallied, and the results are in: Each state has chosen their favorite musician.
Mic ran a poll using Google Consumer Surveys on March 9 and counted 25,734 total respondents aged 18-34. We surveyed roughly 500 people in each state as well as the District of Columbia. The survey gave anonymous users a blank text box to answer the question, "Who is your favorite band or musician?" No musicians were listed as options; rather, users typed in whatever came to mind. All answers here, then, are majority consensus even though they don't always beat other responses by statistically significant margins.
The overwhelming majority of states call either Taylor Swift or Maroon 5 their favorite musician, while outliers like Ed Sheeran, Garth Brooks and Metallica round out the 50 states. Here are the official results:
Taylor Swift: Twenty-three states call Taylor Swift their favorite musician, making her the most popular musician in America. The media have come up with all kinds of speculation as to why Swift is so loved: She knows what she wants, she's funny, she's down-to-earth, she's honest and open. Whatever your reason, if Swift is your favorite musician, you're certainly not alone.
Maroon 5: Twelve states named Adam Levine and his four gangly friends their favorite musicians. Maroon 5 have had a helluva year; though their latest album was released all the way back in August 2014, their single "Sugar" spent nine weeks on the Billboard Hot 100 in 2015. (Incidentally, New York, where Swift is the state tourism ambassador, prefers Maroon 5.) The band comes in second place in the race for America's favorite musician.
U2: Up next are Irish rock legends U2, with four states —  Arizona, Colorado, Rhode Island and Utah — naming the rockers as their favorites. U2 may have culled more states' favor if we'd surveyed before their album, Songs of Innocence, hit iTunes libraries around the world back in September 2014. Apple users were not pleased, and U2 were painted as out-of-touch; still, the legends are tied for third among America's favorite musicians.
The Beatles: These four mop-topped lads from Liverpool tie for third, with four states — Michigan, Minnesota, Montana and Wisconsin — voting the band as their favorite musicians. The Beatles are part of a longstanding debate over whether they are, indeed, the best musicians to ever live. America has spoken.
The rest: Coming in with two states each are country musician Luke Bryan (Georgia and Illinois) and hip-hop mastermind Eminem (Oklahoma, Texas). Rounding out the remaining 50 states are classic rockers Metallica (Alaska), country icon Garth Brooks (Wyoming), Coachella headliners AC/DC (Ohio) and U.K. crooner Ed Sheeran (Kansas).
Check out our map of America's least favorite musicians — it might surprise you.