Denver Did Something Awesome for Firefighters With Its Weed Money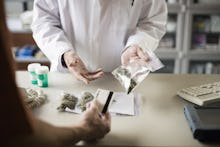 Now that Denver is rolling in legal marijuana revenue, it's time to bring its fire department into the digital age — starting with iPads specifically for licensing marijuana shops.
Right now, local fire departments run inspections of medical marijuana facilities like they're still in the '90s. In order to find out if the medical license is current, if there are unresolved issues or a building permit has even been issued, the inspector must send a stream of calls back to fire department headquarters. 
Notes are taken on paper and can only be confirmed at the headquarter database. There's a lag between inspection time and approval. And because there are over 600 medical and recreational marijuana facilities in Denver, the city's Division Chief of Fire Prevention, Joe Gonzales, and his crew of four inspectors are completely swamped.
Until now.
It's a godsend for a department still operating in a pre-digital era.
To deal with the massive number of dispensaries in the city, Gonzales' team is about to implement a new digital program, which goes into effect as early as next week: It puts specialized iPads into each inspector's vehicle. While that doesn't sound like a lot, it's a godsend for a department still operating in a pre-digital era.
"We're swamped trying to do primary inspections and re-inspections," Gonzales told Mic. "With the current program, we wouldn't know if [the dispensary] has its license. With the iPads, we have instant access to information. It's going to make it safer and more efficient for us, and save the city a lot of money."
A year of progress: Denver's marijuana legalization has turned the city into a tax-fueled oasis, pulling $36.5 million in tax revenue, dumping $2 million of that into local governments and $7 million toward public schools. The return from legal weed is so high the city may even have to give tax money back to the residents. And the city government is racing to keep up.
"Regular sales tax from medical and retail marijuana goes into the general fund to pay for city services," Dan Rowland, Denver's communications adviser, told Mic. "We're using that special sales tax of retail [marijuana] to manage it across the city. That includes hiring 37 new people last year to work on it. It's quite a chore."
Denver's new digitized inspection program is even getting attention from around the continent. According to Gonzales, his office regularly fields calls from anywhere from Canada to Portland to the eastern United States. "They don't want to make mistakes and stumble in developing a program," Gonzales told Mic. "They ask us what they can expect. Georgia just passed a law legalizing medical marijuana. We got many calls from Georgia."
Gonzales still has to wait a week for the new program to go into effect, but he's ready to get started. "The vehicles are equipped with adapters for the iPads," he said. "We have all the printers on board. All four inspectors will be equipped. We're ready to go."