The Fight to Get Medical Marijuana to Veterans Just Got a Big Boost in the Senate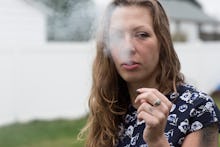 "Is medical marijuana right for me?"
American war veterans can ask the question, but doctors with the Department of Veterans Affairs are banned by the federal government from answering — even in states where the drug is legal. But that could soon change, thanks to a historic vote Thursday in the Senate Appropriations Committee.
By an 18-to-12 margin, senators approved an amendment to a massive military spending bill that would allow VA physicians to recommend the use of marijuana to treat post-traumatic stress disorder and other serious injuries and conditions.
According to the Hill, co-sponsors Sen. Jeff Merkley (D-Ore.) and Sen. Steve Daines (R-Mont.) tacked the provision on to a $77.6 billion construction and veterans benefits bill. A similar measure was narrowly defeated in the House of Representatives on April 30. Negotiators from both chambers will have to hammer out a compromise to reconcile the difference.
"Doctors should never be prohibited from helping their patients obtain the best possible medical treatment," Dan Riffle, director of federal policies for the Marijuana Policy Project, said in a statement following the vote. "This is exactly how most Americans want Congress to handle this issue. Hopefully we are reaching a point at which it is becoming the norm, rather than the exception. The pace at which support appears to be growing in the Senate is particularly encouraging."
As much as 20% of veterans of the wars in Iraq and Afghanistan experience PTSD, according to the Department of Veteran Affairs.
Twenty-three states and the District of Columbia have legalized medical marijuana. But because the VA is a federal agency and the federal government still classifies cannabis as a Schedule I drug with no known medicinal value, department doctors treating veterans cannot legally discuss its potential benefits with their patients.
Thursday's vote follows a series of positive developments for pro-medical marijuana advocates. In March, Democratic Sens. Cory Booker (N.J.) and Kirsten Gillibrand (N.Y.), along with their Republican colleague and presidential candidate Sen. Rand Paul (Ky.), introduced the Compassionate Access, Research Expansion, and Respect States Act. Their bill, like the bipartisan Veterans Equal Access Act, would allow VA doctors to recommend medical marijuana to patients in states where it is legal to prescribe.
But as support for those proposals remains uncertain, the introduction of an amendment into this larger spending package represents the most practical way forward. With nearly $80 billion in military funding at stake, the bill is guaranteed to survive. The question now: Can the marijuana amendment survive with it?