15 Tweets That Perfectly Expose the Hypocrisy of Child Molester Josh Duggar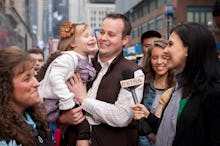 Josh Duggar, a star of the TLC hit 19 Kids and Counting and professional moralizer, has resigned his position as executive director of the Family Research Council's lobbying arm after admitting to sexually molesting a number of underage teenage girls 12 years ago. Some of the victims were reportedly his own sisters.
In Touch Weekly first broke the news after obtaining the story from a 2006 police report through a Freedom of Information Act request. Though the report was heavily redacted, the magazine was able to confirm the individual's identity as Duggar's. 
Among the offenses investigated, several of which were felonies, were forcible fondling and touching the breasts and genitals of a female minor while she slept. 
Duggar, however, was never charged with a crime, and it is unlikely he will be, since the original claims have now passed their statute of limitations.
On their family Facebook page, the Duggars issued their own statement, which included an excerpt from Josh, where he apologized for his behavior and all the people he had hurt. 
The text reads:
Twelve years ago, as a young teenager, I acted inexcusably, for which I am extremely sorry and deeply regret. I hurt others, including my family and close friends. I confessed this to my parents, who took several steps to help me address the situation. We spoke with the authorities, where I confessed my wrongdoing, and my parents arranged for me and those affected by my actions to receive counseling. I understood that if I continued down this wrong road that I would end up ruining my life. I sought forgiveness from those I had wronged and asked Christ to forgive me and come into my life. I would do anything to go back to those teen years and take different actions. In my life today, I am so very thankful for God's grace, mercy and redemption.
Reactions elsewhere online, however, have been swift and largely unforgiving. As a public figure, Duggar had been well-known for his outspoken evangelical Christian beliefs against homosexuality, and his former employer, the Family Research Council, is known for its opposition to abortion rights (and for being an officially classified hate group). Celebrities, victims of sexual assault and ordinary people lined up on Twitter to vent their outrage and unmask the hypocrisy.
Duggar's implosion is only the latest in a long series of scandals involving anti-LGBT conservative religious activists. Earlier this month, Michigan pastor Matthew Makela, who compared homosexuality to alcoholism, was found soliciting sex on the gay dating app Grindr. More famous still was the 2006 case of Ted Haggard: The powerful anti-gay leader of a Colorado Springs-based megachurch was unmasked as a drug user and participant in an ongoing sexual relationship with a Denver man. This list could go on and on and on.
Josh Duggar sexually assaulted multiple teenage girls and was never punished. He then went on to have a successful career publicly judging the loving relationships of consenting adults. While his just desserts may taste sweet, stories like this really should never be allowed to happen in the first place.