Topless Women Marched Through the Streets to Protest Police Brutality Against Black Women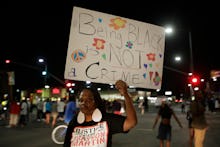 Around 300 protesters, mostly women, blocked traffic as they marched topless through the streets of San Francisco's Financial District on Thursday to protest police brutality against unarmed women of color. Using the hashtag #SayHerName, the protests centered around the deaths of Aiyana Stanley-Jones and Rekia Boyd.
Protests were prompted by a report published Wednesday by the African American Policy Forum documenting the killing and sexual assault of black women by police officers, entitled "#SayHerName: Resisting Police Brutality Against Black Women." While protests took place in other cities, such as New York, Chicago, St. Louis, Washington, D.C. and New Orleans, San Francisco's is the only one in which women went topless in an effort to raise awareness.
"Although Black women are routinely killed, raped and beaten by the police, their experiences are rarely foregrounded in popular understandings of police brutality," Kimberlé Williams Crenshaw, co-author and executive director of the African American Policy Forum, said in the report. "Yet, inclusion of Black women's experiences in social movements, media narratives and policy demands around policing and police brutality is critical to effectively combating racialized state violence for Black communities and other communities of color."
The protesters held placards with the hashtag #SayHerName in an effort to include black women in the discussion. Not only have black women been left out of social movements like #BlackLivesMatter, but they are also largely ignored by the media when killed by law enforcement. Furthermore, for black women, sexually-based brutality is a part of police abuse, something black men are largely immune to. 
"Sexual assault follows excessive force as the second most pervasive form of police misconduct [against black women]," notes Mic's Darnell L. Moore.
The decision to go topless was also a protest against the hypersexualization of black women's bodies and gender-based violence, protesters said, according to BuzzFeed.
These bold women were willing to make themselves vulnerable in order to fight for social justice within social justice movements. There is a tragic irony in leaving women and girls out of the push for racial equality in America and it's time their voices are heard.