Ed Sheeran and Kermit the Frog Teamed Up to Play Kermit's Most Famous Song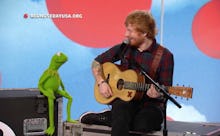 Thursday was Red Nose Day — and the first Red Nose Day in America. The day is a charity event that raises money for poverty-stricken young people by bringing together the world's biggest celebrities. Two of those figures were Kermit the Frog and Ed Sheeran, who joined forces to sing a joyful rendition of Kermit's most famous song, "Rainbow Connection."
The duet ran Thursday night on NBC as part of a three-hour TV special event that featured some of the biggest comedians, musicians and actors from around the world. The song is familiar to all muppet lovers as Kermit's introduction on the very first muppets film. Next to Sheeran and Kermit's performance, the highlight of the night was Coldplay's Chris Martin taking on George R.R. Martin's Game of Thrones. The singer gathered the cast of the hit HBO series to bring to life his very own Game of Thrones: The Musical. Hilarity ensued.
Keith Urban joined in too, singing the John Mellencamp classic, "Pink Houses." Mid-verse, Mellencamp himself showed up to help Urban finish the song in style. But perhaps the biggest, most anthemic moment of the night came from U2, who performed "Song for Someone," off their latest album, Songs of Innocence.
Still, Kermit and Sheeran's intimate rendition of the hopeful "Rainbow Connection" was perfect for the day — and heartbreakingly sweet.