This Supermodel Is Turning #NormalizeBreastfeeding into the Next #FreeTheNipple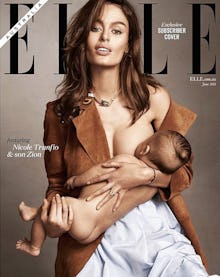 Elle Australia made a bold statement with its June issue, which features 29-year-old model Nicole Trunfio breastfeeding her 4-month-old son, Zion. It is one of the first mainstream magazines to feature a woman breastfeeding, aiding the movement to destigmatize and celebrate what is a very natural act. 
"There is nothing more powerful and beautiful than motherhood." Trunfio unapologetically made this statement with the Instagram picture she posted of herself breastfeeding. The model encouraged everyone to embrace breastfeeding as part of human life, empowering mothers in the process. In full, she wrote:
There is nothing more powerful and beautiful than motherhood. The last thing I want to do is be controversial, so please take this for what it is, let us #normalizebreastfeeding there is nothing worse than a mother that is judged for feeding her hungry child in public. #weareonlyhuman I'm so proud of this cover and for what it's stands for. I obviously don't look like this while I am breastfeeding but this stands for all women out there, whether you breastfeed or not, we gave birth, we are women, we are mothers. Thank you to ELLE for being so bold and making such an encouraging, positive and healthy statement. #womenunite
The photograph wasn't planned and happened organically, according to Elle. "This wasn't a contrived situation: Zion needed a feed, Nicole gave it to him, and when we saw how beautiful they looked we simply moved her onto the set," Justine Cullen, Elle's editor-in-chief, wrote. "It was a completely natural moment that resulted in a powerful picture."
Elle's cover is indicative of the traction and popularity gained by the #NormalizeBreastfeeding movement, which now has its own Instagram account.
What's the big deal? #NormalizeBreastfeeding is a natural extension of the feminist #FreeTheNipple movement, in which protesters expose their breasts to reclaim and end the objectification of their bodies. Ultimately, it's about equality; it's shouldn't be illegal for women to expose their nipples while it's perfectly acceptable for men to do so.
Women across the world face the stigmatization of public breastfeeding, making the simple act of feeding their hungry child a difficult one. In June 2014 there was a hugely negative social media frenzy when a picture of then-25-year-old Karlesha Thurman breastfeeding her baby at her graduation reached Twitter.
While Elle's move to have Trunfio breastfeeding on the cover was a bold one, it comes with a discouraging caveat. They are only using the photo as the cover for subscribers and not for the hardcopy edition sold in newsstands and shops. The commercial hardcopy cover still includes her son, Zion, but Trunfio is instead holding him while she's fully clothed.
The real victory will come when photos that #NormalizeBreastfeeding don't face censorship and are used across the board.