You Can Finally Listen to the Leak of Drake and Beyoncé's New Song "Can I?"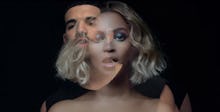 This week, digital music's rampant leak culture yielded a rare and tremendous gift: a new Drake and Beyoncé track. The leak has been circulating in different forms for a few days now. First it was just a snippet, but now we have the full song. It's moody, hypnotic and evocative — up there with the best of what Toronto's own offers these days.
Beyoncé's contributions are more or less built into the beat as little vocal snippets. She sings "can I" and "baby," and then before the hook: "Before I turn the lights out?" Her limited involvement could mean the song is unfinished, as Stereogum suggests, noting an extended outro that may point to another verse. Or perhaps it's a power play: Drake can land a Beyoncé feature, only have her spit for a few words and still make a hit.
This isn't the first time that Drake and Bey have worked together. Drake appeared on Beyoncé's self-titled album on the song "Mine," harmonizing with Beyoncé on the hook and lending a verse and a pre-chorus. Their voices blend extremely well. Drake's presence also helped to underscore the new, introspective direction that Beyoncé's solo album absolutely owned.
There's nothing but speculation about where the track will end up. But this may be our first listen of Drake's Views From the Six, the full-length LP he announced in July 2014, rumored to be dropping this spring. This collaboration also spells good things about Drake's summer festival appearances. He gave the Internet an absurdly meme-worthy moment with Madonna at Coachella. Perhaps there will be a Beyoncé appearance at Austin City Limits, or DC's Landmark? Stranger things have happened.
h/t Stereogum