The Problem With the Duggar Sexual Assault Cover-Up Nobody's Talking About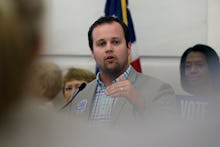 Revelations of sexual assault and child molestation are always deeply disturbing, but they seem to capture the public's attention most when they are rooted in hypocrisy. This has certainly been the case with Josh Duggar, a member of one of TV's most wholesome Christian families and (former) executive director of the anti-gay Family Research Council's lobbying arm, who was recently exposed as a child molester.
In Touch Weekly reported that Duggar was accused of sexually molesting multiple underage girls in a 2006 police report, some of whom were his own sisters.
"Back 12 years ago our family went through one of the most difficult times of our lives," Josh's parents, Jim Bob and Michelle, told People in a joint statement. "When Josh was a young teenager, he made some very bad mistakes, and we were shocked. We had tried to teach him right from wrong. That dark and difficult time caused us to seek God like never before." 
While the act itself is inexcusable, the family has arguably perpetuated even more harm in the way they've chosen to handle it. The Duggars have focused their public concern around Josh, the perpetrator, rather than their daughters or the other victims of his actions.
Though Josh confessed his actions to his father years ago, the Duggar patriarch failed to report the crime for more than a year and continued to cover up the incident for over a decade, according to In Touch. While the family reportedly sought treatment for Josh (in the questionable form of working for a friend in Little Rock in the home remodeling business), there has been no mention as of yet as to whether or not their daughters received treatment for surviving molestation.
In recent public statements, the family continues to focus on Josh's "mistakes," as his wife called the incidents, and their thankfulness for "God's grace, mercy and redemption" without clearly acknowledging how the survivors of these acts are faring.
One in five girls in this country is a victim of child sexual abuse, according to the National Center for Victims of Crime, and 3 out of 4 adolescent victims of sexual assault knew the perpetrator well, according to a 2003 National Institute of Justice report.
While this horrifying incident may help raise awareness about this unfortunately common experience, the Duggars seem be choosing a path of denial and silence. 
Josh Duggar's actions are inexcusable. Moments like this can be an important time to show people how to best support survivors in their own lives. Hopefully the Duggars will recognize that — for the benefit of their own daughters, as well as survivors and their families around the country watching this incident unfold.