19 Photos of Child Molester Josh Duggar Standing Next to Major U.S. Politicians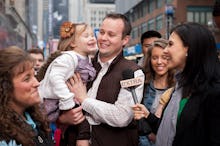 On Thursday, former reality television personality turned Family Research Council executive director Josh Duggar resigned his position at the organization after admitting to sexually molesting several underage teenage girls 12 years ago, some of whom may have been his sisters. Duggar had been previously featured on TLC's hit show 19 Kids and Counting, about a wholesome Christian family with many children.
In Touch Weekly first reported the story after obtaining a 2006 police report that listed several felonies, including "forcible fondling and touching the breasts and genitals of a female minor while she slept."
Shortly after the news broke, many took to Twitter to point out the hypocrisy of the case, given Duggar's now-former standing at the Family Research Council, a conservative Christian group and lobbying organization that's officially listed as a hate group by the Southern Poverty Law Center.
Though the circumstances are bad enough on their own, Duggar's high standing at the Family Research Council and the impressive political reach that comes with it are disconcerting. While it would certainly be unfair to argue any of these politicians knew about Duggar's illicit past, it wouldn't be the first time someone has lambasted a political figure for their past dealings with people who turned out to have questionable histories.
Nevertheless, Duggar, who will likely go uncharged because of the expired statute of limitations on his crimes, appears to have considerable political clout and reach. Here are 19 photos Duggar posted to his own Twitter account of him with U.S. politicians, including several current Republican presidential candidates.