One Photo Shows How Not to Tell the World About Your Interracial Relationship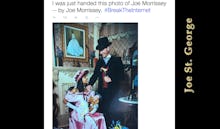 Where to begin?
This painfully loaded photo depicts Joe Morrissey, 57, a Democrat and former Virginia delegate running for state senate as an independent candidate this year. To his right are his 19-year-old receptionist and their 9-week-old baby, Chase, whom Morrissey publicly acknowledged as his son for the very first time on Wednesday, according to the Washington Post.
(Mic has declined to publish the receptionist's name because she is the victim of a sex crime. The Post has published her name, but only after obtaining her permission to do so.)
Morrissey is white. His receptionist is black. This becomes relevant when you realize the era so warmly re-created in this picture is the mid-1800s — a time when coercive sexual relationships between white male slave owners and their (often much younger) black female slaves was the norm, and often resulted in out-of-wedlock children whose white fathers subsequently denied them.
Not to mention Morrissey's history with this young woman is already checkered. The Post reports:
"Last year, Morrissey pleaded guilty to a misdemeanor charge of contributing to the delinquency of a minor in connection with his relationship with [his receptionist] — while she was 17 — but denied the original charges. Prosecutors initially charged Morrissey with multiple felonies, alleging that he had sex with [her] while a minor and shared nude photos of her.
The photo went public May 14, when Morrissey reportedly handed it to Joe St. George, a WTVR CBS 6 Richmond political reporter, who later tweeted it. 
When St. George asked Morrissey if the photo was his way of admitting that he had fathered the child, "Morrissey said, 'no,' and walked away," WTVR reports.
As Jezebel points out, the exchange was simply weird. But on Wednesday, Morrissey finally copped — during an interview with local WLEE News Talk 990 radio's The Jack Gravely Show — to being Chase's father.
"Everybody knows that Chase is my boy," Morrissey told Gravely, according to WTVR.
"But have you ever admitted it?" Gravely replied.
"Yes, I did it 30 seconds ago," Morrissey said.
There's so much to find upsetting in this story — the alleged sexual crime, the gendered and racialized power dynamics at play, not to mention the long-shirked admission of paternity (with its historically loaded implications). But to commemorate the above with a posed photo hearkening to an era of black enslavement and sexual coercion? Shut it down, America.
Everyone needs to do better.