Kansas Faces Federal Backlash to Shameful New Offensive In Its War on the Poor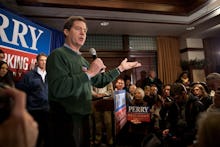 If the states are the "laboratories of democracy," then Kansas is beginning to look more and more like the cellar of Dr. Frankenstein's Bavarian castle. 
An inventively cynical group of state legislators, backed by the administration of Gov. Sam Brownback, a conservative Republican vessel for all the worst and most destructive economic policies of the past 30 years, passed an amendment in April prohibiting welfare recipients from making withdrawals in excess of $25 from their government-issue debit cards. 
The initial backlash caught the attention of the federal Department of Health and Human Services, which is now scrutinizing the amendment and could, according to McClatchy, pull federal funds from the state under the authority of the Social Security Act, which requires recipients be guaranteed "access to using or withdrawing assistance with minimal fees or charges."
Barring an about-face, on July 1 the state will effectively cut off its poorest citizens from needed funds while directing a healthy cut of their aid to financial companies who collect fees on ATM transactions. According to the Washington Post's calculations, "a single mother with two children seeking to withdraw just $200 in cash could incur $30 or more in fees, which is a big chunk of the roughly $400 such a family would receive under the program in Kansas."
The real issue: Brownback has actively sought to distract public attention from his role in plunging the state into an estimated $400 million budgetary abyss. Refusing to back away from the deep tax cuts that cleaned out the state's revenue base, the governor instead relies on plying supporters with a steady diet of empty, high-calorie conservative treats. 
In February, he rolled back his predecessor's 2007 executive order guaranteeing gay and trans workers protection from discrimination in the workplace. Asked at the time how the decision could be interpreted as anything other than calculated misdirection, Brownback's communications director, Eileen Hawley, told Mic a governor "shouldn't rule by executive fiat."
"That's the sort of thing we see President Obama do," she said, insistent that the timing of his action — more than four years into his administration — was a simple coincidence.
Equality Kansas executive director Thomas Witt didn't buy it. "This has been a personal project of his for years," Witt told Mic in February. "Brownback is playing to his base and attempting to distract from the serious budget crisis facing our state," said House Minority Leader Tom Burroughs, a Democrat.
Just trolling now: Republicans in the statehouse picked up the baton soon thereafter, crafting and passing a welfare reform bill that seems to exist for the express purpose of humiliating families on public assistance. 
To wit, the law — which provided a jumping-off point for the withdrawal amendment — bars recipients from spending their funds on entry to strip clubs, movie theaters, casinos, swimming pools and tattoo parlors. Theme parks, spas and nail salons are also on the banned list.
These restrictions offered little in the way of practical value to the near-destitute state. According to a Slate round-up, most welfare money goes to things like food, housing and transportation to supplement low-paying wage work. The savings from the initial reform were insufficient because they cut off imaginary spending. The ATM provision, however, targets the dollars themselves. 
State Sen. Michael O'Donnell, a Republican from Wichita, has been among the reform law's most vocal advocates. The purpose of the amendment, he told the Topeka Capital-Journal in April, was to inspire low-income families to spend "more responsibly." 
This week, O'Donnell, though still apparently oblivious to the deeper irony, conceded to McClatchy he didn't know that passing the amendment could threaten the state's federal grant money. 
"I hadn't researched it enough," he said, telling a reporter he planned to introduce a new amendment, this one to take the withdrawal limit up to $60. Whatever the final figure, Kansas under Brownback has secured its place among the country's most tragically dysfunctional states. The "real live experiment" he promised when taking office in 2010 is over and laboratory is on fire.