One Restaurant Has the Most Delicious Response to Ireland's Historic LGBT Vote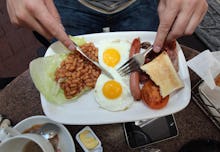 The Bishopstown Bar in Cork, Ireland, is celebrating the country's gay marriage referendum on Friday with a #MarRef (Marriage Referendum) breakfast special on the menu. Those who order the #VoteNo option only get one sausage, while those who order #VoteYes get two. 
The bar is known for its funny and controversial tweets, which it uses as a marketing tactic. "We like to be humorous so we can interact with the customers a bit more," Damien Sreenan, head of marketing at Bishopstown Bar, told Mic.
Nobody ordered the #VoteNo breakfast, according to Sreenan and the bar's official Twitter account.
The special attracted a lot more attention that the bar is used to. "The response has been huge! We've been in the newspapers before for a couple of different controversial tweets, but this time it's been everywhere — in Turks and Caicos, Africa, India, Asia, the U.S., Australia," Sreenan said.
Ireland is the first country to ask its citizens to vote on legalizing gay marriage. If Ireland votes "yes," it will also be the first country in the world to introduce gay marriage via popular vote. The results are expected to be announced on Saturday morning. 
Sreenan was optimistic and thinks, while it will be a close call, the 'yes' side will come out on top. The bar's employees have, if anything, been overenthusiastic with their campaigning. "We have one gay barman who's been campaigning all day for the #YesVote and asking people if they'll have an extra sausage and we had to tell him it's a sausage in the breakfast only ... nowhere else."