Report: TLC Is Pulling '19 Kids and Counting' From TV Schedule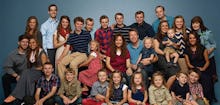 The television network TLC will pull all episodes of 19 Kids and Counting from its programming schedule indefinitely amid continuing fallout over revelations that one of the shows stars, Josh Duggar, confessed to molesting a number of underage girls 12 years ago.
TMZ reported first reported the news, citing "sources familiar with the situation," adding the network had not decided on a long term decision for the show. The move was a sharp turnabout for the network, which ran a 19 Kids marathon on Thursday. 
Duggar, a devout evangelical Christian, has faced an avalanche of controversy since the allegations emerged earlier this week. The reality star has since stepped down from his position as an executive director for the Family Research Council.
On Thursday, the Duggar family issued a statement via Facebook, more or less owning up to the charges. 
In the statement, Josh himself wrote:
"Twelve years ago, as a young teenager, I acted inexcusably, for which I am extremely sorry and deeply regret. I hurt others, including my family and close friends. I confessed this to my parents, who took several steps to help me address the situation. We spoke with the authorities, where I confessed my wrongdoing, and my parents arranged for me and those affected by my actions to receive counseling. I understood that if I continued down this wrong road that I would end up ruining my life. I sought forgiveness from those I had wronged and asked Christ to forgive me and come into my life. I would do anything to go back to those teen years and take different actions. In my life today, I am so very thankful for God's grace, mercy and redemption."
The finale of Season 10 aired Tuesday.
If the series is ultimately canceled, it would cap a brief but furious online campaign to ice the show. The Twitter hashtag #CancelTheDuggars was heavily trending throughout Friday morning, and echoed calls from celebrities and ordinary folks across the web. 
Duggar also had his defenders, most prominently among fellow religious conservatives. Former Arkansas governor and Republican presidential candidate Mike Huckabee posted a long defense of the reality star on his personal Facebook page.
It would also not be the fist time TLC was forced to abandon a popular show in the wake of controversy. In 2014, TLC killed Here Comes Honey Boo Boo, after the child star's mother, Mama June, was revealed to be dating a convicted child molester. Duggar's far more serious offense led many, including Mama June, to accuse the network of hypocrisy. In interview with TMZ, June said she would sue the network if 19 Kids and Counting remained on the air.