7 Sensational Photos Show How to Embrace Black Masculinity in a Revolutionary Way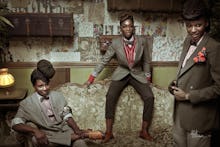 Masculinity isn't strictly reserved for men. A new photo editorial from French magazine Black Attitude, titled Dandy Queens, features black women embracing their own sexiness and strength in sharp menswear, and shows masculinity can also be a state of mind. 
"What makes you think of 'masculinity' is actually confidence," Black Attitude shoot coordinator Vanessa Bul'An'Sung told Mic. "We are not trying to frame 'masculinity' or 'femininity' here. No nice little boxes to fit. Just a Black Attitude state of mind."
Black Attitude artistic director Catia Mota Da Cruz told Mic, "It's all about the attitude." The subjects of the shoot don't "need the help of fancy dresses or jewelry to look feminine and sexy."
"From the moment you feel confident about your body," photographer Prisca M. Monnier said, "you can be extremely feminine with men's clothes and vice versa." 
Monnier said this practice goes back centuries. For example, she explained, some ancient Egyptian men wore skirts, but that did not necessarily mean their own perceived masculinity was affected through their clothing choices. "Nothing was questioned about their masculinity because there was an attitude to it," she told Mic. "And that is what [we] want to defend. Wear anything you want, but with attitude."