Bob Dylan's True Genius Is in the Songs You Never Heard Him Sing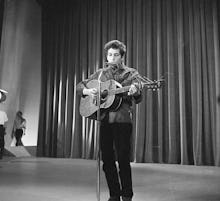 Bob Dylan turned 74 on Sunday, and still no one can overstate his influence on American music. Music writer Paul Zollo said of Bob Dylan, "there are few artists in this evolutionary arc whose influence is as profound as that of Bob Dylan. It's hard to imagine the art of songwriting as we know it without him." But it's even harder for most people to realize how many great songs Dylan wrote. His true genius isn't just in his legendary recordings — it's in the songs people love like his classics but don't even realize he composed.
It shouldn't come as a surprise that many of Dylan's songs have become immensely popular. He is, after all, one of the greatest songwriters to ever live, and with that Midas reputation, shouldn't all his songs turn to gold? What is surprising, though, is that the songs he wrote for other musicians turned out to be immensely popular, too That's a testament to his genius, and the reason he's a living legend. Here are six Dylan-penned songs — which most people don't associate with Dylan's name — that became hugely popular.
"Wagon Wheel"
Dylan wrote the chorus of the song popularized by Old Crow Medicine Show, and later Mr. Hootie and the Blowfish, Darius Rucker). Back when he was recording the soundtrack for Pat Garrett & Billy the Kid in 1972, the chorus of "Wagon Wheel" became a scrap he threw away, kept alive only through bootlegs. In 1995, Old Crow Medicine Show's Ketch Secor fleshed out the verses and recorded the version we all know and love today.
"Wagon Wheel" got its second (or third, depending on who's counting) wind in 2012 when Rucker's version shot to No. 15 on the Billboard Hot 100, 40 years after Dylan wrote the chorus.
"Make You Feel My Love"
Contrary to what many Adele fans believe, Dylan wrote this song in 1997. And way before Adele, several other artists put their own spin on the now-classic. First was Billy Joel, who recorded the song in 1997; two months later, Dylan recorded it for his album, Time Out of Mind, according to Taste of Country. In 1998, Garth Brooks recorded the song for the Hope Floats soundtrack and earned a Grammy Award nomination for best male country vocal performance. Dylan got his due, though — he was nominated for best country song for that rendition.
It wasn't until Adele's 2008 record, 19, that her version popularized the song once more. The song was so popular — it was on the U.K. singles chart for an impressively long run — that Adele at one point said, "I actually think I've saved [Dylan]. He's going to get about £1 million out of that song. He's going to get a big paychek at the end of the year."
"The Mighty Quinn (Quinn the Eskimo)"
The most popular version of this song is Manfred Mann's "The Mighty Quinn (Quinn the Eskimo)" from 1968. But Dylan first wrote and recorded the song in 1967, though it wasn't released until 1970 on his album Self Portrait. Dylan's version of the song is much rawer and sounds pretty off the cuff, though the bones of the song are basically the same on both Manfred Mann's version and Dylan's. The Manfred Mann version was a big hit in the U.K. — in 1968, it spent 11 weeks on the charts, including one week at No. 1.
"Coming From the Heart"
Dylan cowrote this song in 1978 with back-up singer Helena Springs. According to the Telegraph, Dylan only ever performed the song once, that year, when recorded it for his album, Street-Legal, but it became an outtake and was never released. It was, however, recorded, released and popularized by British rock band Searchers in 1979.
"Love Is Just a Four-Letter Word"
Cynical? Dylan? Never! Though he and Joan Baez ended their relationship on a rocky note, back in the early '60s they were extremely close. Dylan wrote "Love" circa 1965, and claimed he never actually finished it, though Baez claimed he finished it "eight different ways," according to the Telegraph. Her 1968 recording was the version that popularized the song; in 1969, it spent four weeks on the Billboard 100. To this day, there's no Dylan version to be found.
"All Along the Watchtower"
This one's not a deep cut like the other Dylan songs on this list, but Dylan said he prefers Jimi Hendrix's version to his own. "It's not a wonder to me that he recorded my songs," Dylan wrote in 1988, "but rather that he recorded so few of them because they were all his," as reported by Cover Me. Dylan wrote the song for his 1967 album, John Wesley Harding, and Hendrix picked it up a year later for his version on Electric Ladyland. Hendrix's version made it the hit it is today.