Ireland Just Made History for LGBT Rights in One Landslide Popular Vote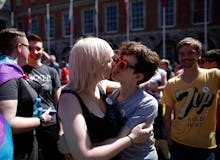 In a historic vote on Friday, the Republic of Ireland voted to legalize marriage between all persons regardless of their sex, thus ushering in a new era of LGBT rights in the Emerald Isle.
The vote is the first time that a nation has legalized gay marriage by popular vote.
The New York Times reported that early vote counts on Saturday are "showing strong and broad support for a measure that would have been unthinkable just a few years ago in what traditionally had been a Roman Catholic stronghold." Homosexuality in Ireland has only been legal for roughly 20 years. The BBC reported that in Dublin, as many as 75% of voters were in favor of the reform.
Early results posted by the Telegraph indicated that gay marriage supporters may have won with as much as 62.4% of the vote, with an incomplete tally showing 210,729 in favor of the measure and 126,814 against.
On Twitter, director David Quinn of the socially conservative Iona Institute politely conceded the vote, telling the pro-gay-marriage side "well done."
"Obviously there's a certain amount of disappointment, but I'm philosophical about the outcome," Quinn told the BBC. "It was always going to be an uphill battle - there were far fewer organisations on the 'no' side, while all the major political parties were lined up on the 'yes' side and you had major corporations coming out for the first time to say how we should vote on a particular issue."
"It's wonderful. It's a little bit late for me," Irish senator David Norris, who devoted decades to decriminalizing homosexuality in Ireland, told the Guardian. "I've spent so much time pushing the boat out that I forgot to jump on and now it's out beyond the harbour on the high seas, but it's very nice to look at."
As NPR notes, the victory of the gay marriage measure is remarkable because Ireland tends to be "one of the most socially conservative countries in Western Europe." According to NPR, Ireland has the highest church-going rate on the continent, abortion is still illegal and "divorce was outlawed until the mid-1990s."
In the U.S., Americans may soon be able to get married regardless of sex anywhere in the country, as the Supreme Court is expected to issue a ruling on state gay marriage bans in coming weeks that could legalize it nationally. As LGBT rights are increasingly becoming mainstream across the country, social conservatives have launched a backlash in the form of "religious freedom" laws intended to protect businesses that refuse to serve gays and lesbians.