Court Says Officer Who Shot at Two Unarmed People 49 Times Did Nothing Wrong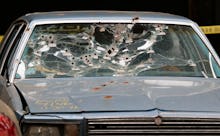 Cleveland Police Officer Michael Brelo, who shot 15 rounds into a car containing two unarmed black people after jumping onto its hood, has been found not guilty of voluntary manslaughter and felonious assault in a court decision released Saturday.
Brelo stood accused of misconduct after what the Plain Dealer described as 22-minute car chase in 2012 involving 62 police cars. After the car came to a halt in a middle school parking lot, Cleveland law enforcement shot at the car 137 times — about as many as a Louisiana posse fired at Bonnie Parker and Clyde Barrow in 1934.
The background: Brelo fired 49 shots during the incident, 15 of which occurred after Brelo jumped on the hood to shoot through the windshield. Both 43-year-old Timothy Russell and his passenger, 30-year-old Malissa Williams, died in the incident. Both were unarmed and were struck upwards of 20 times each.
Prosecutors alleged that both the high-speed pursuit of Russell's vehicle and the barrages of gunfire that ensued during the chase were reckless. Instead of identifying the suspect and arresting him later, prosecutors alleged in court documents that the chase reached "Blues Brothers proportions."
CNN reports that Officer Brelo waived his right to a jury trial. Instead, Cuyahoga County Judge John P. O'Donnell delivered the verdict, ruling that the final shots were constitutionally justified as Brelo and his colleagues could not be sure the suspects did not pose a threat to arriving officers. According to WJW-TV, O'Donnell said that he could not ascertain from the evidence provided whether Brelo had discharged any of the fatal rounds.
"The driver was fully stopped. Escape was no longer even a remote possibility. The flight was over," Prosecutor Timothy J. McGinty alleged in a statement last year. "The public was no longer in danger because the car was surrounded by police cars and 23 police officers in a schoolyard safely removed from pedestrians and traffic."
Why you should care: The verdict, which comes at a time when Cleveland police are also facing heat for the death of 12-year-old black preteen Tamir Rice, is unlikely to go down well with either locals or national observers. In December, the Department of Justice released a report detailing a two-year investigation that concluded city police used "dangerous tactics" and excessive force at a "significant rate," putting the department under the supervision of a federal court.
"Discipline is so rare that no more than 51 officers out of a sworn force of 1,500 were disciplined in any fashion in connection with a use of force incident over a three-and-a half-year period," the report alleged.
To many in Cleveland and elsewhere, the verdict is yet another confirmation that police can get away with practically anything.
U.S. Rep. Marcia Fudge, who represents an area ranging from Cleveland to Akron, released a statement calling the verdict "another chilling reminder of the broken relationship between the Cleveland Police Department and the community it serves."
"All I know is that I don't trust police no more. No police. None," one man protesting outside the courthouse told CNN. "I can't recover from this. ... This verdict isn't real. This verdict is fake."
Despite widespread anger at the verdict, city officials are confident that a repeat of the riots in Baltimore will not happen.