The Massive Oil Spill in California Is Five Times Worse Than Previously Thought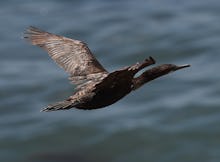 A massive oil pipeline break has leaked approximately five times as much oil as predicted onto the Santa Barbara coastline following Tuesday's industrial accident.
According to MSNBC officials have admitted that as much as 105,000 gallons of crude oil have spilled onto Refugio State Beach, creating a mess that could take months to remedy.
CNN also reported that in response, federal and state officials have intensified their efforts to clean up the spill and hold the operator of the pipeline, Plains All American Pipeline, accountable. The Department of Transportation issued Friday a corrective action order requiring the company to immediately shut down the pipeline, conduct a series of tests and demonstrate they have improved the safety of the conduit. Meanwhile, state Attorney General Kamala D. Harris is launching an investigation into the incident.
This spill is particularly bad news because it strikes at the Santa Barbara Channel, which NPR calls "one of the most biologically rich places on the planet."
"After the main cleanup is completed, scientists will be on site collecting samples and doing studies for months. Things here are bad, for sure," NPR's Kirk Siegler said. "The spill occurred right between two recently protected stretches of the coast."
In 1969, a massive oil blowout flooded the Santa Barbara Channel with an estimated 3 million gallons of crude oil, prompting President Richard Nixon to sign the National Environmental Policy Act and the federal government to begin holding oil companies liable for damages due to spills.
Quick federal regulatory attention may also be necessary in this case. According to CNN, "Plains All American is among the worst violators listed by the U.S. Pipeline and Hazardous Materials Administration," ranking fifth in violations. CNN also noted that "since 2006 the company has accrued 175 federal safety and maintenance violations and spilled more than 16,000 barrels of oil, racking up at least $23 million in damages during the process."