The #DancingMan Got His Star-Studded Dance Party in Los Angeles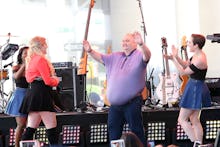 The #DancingMan finally got his star-studded dance party.
In February, British man Sean O'Brien was bullied in by anonymous jerks who made fun of his weight while he was trying to dance. The bullies posted a photo of O'Brien looking defeated to the Internet site 4chan.
His identity was sought by then-Free Thought Project writer Cassandra Fairbanks, who promised to throw him a dance party in Los Angeles involving nearly 2,000 women who wanted to cheer him up. After Twitter users spent days searching for the #DancingMan, he was found — and a slew of celebrities and entertainers promised to join the dance party being thrown in his honor.
On Friday, O'Brien got a visit from Meghan Trainor, who threw an "impromptu dance party with him right on the plaza stage before her performance." Then, on Saturday night, Mashable reports that O'Brien was treated to the promised party at the Avalon, a premier nightclub in Los Angeles. It was DJ'd by Moby and attended by celebrities ranging from Pharrell Williams to Monica Lewinsky, who used the occasion to make remarks on bullying.
The event raised tens of thousands of dollars for anti-bullying charities.
"The positivity of it all. So many good people out there. This all started because somebody tried to be nasty and it turned good so quickly," O'Brien told KABC-TV, which also reported that he will be throwing the first pitch during Sunday's Los Angeles Dodgers game.
All in all, Saturday night was a huge victory for the kindness of strangers and a true feel-good story. It was also a big defeat for the anonymous trolls who shamed O'Brien in the first place. He who laughs last, laughs best.
h/t Mashable