15 Powerful Photos of the #BreloVerdict Protests Rocking Cleveland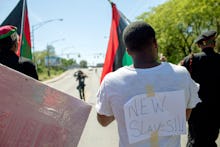 On Saturday, Cuyahoga County Judge John P. O'Donnell delivered a verdict of not guilty for Cleveland Police Department Officer Michael Brelo, who jumped on the hood of an unarmed suspect's car and fired 15 rounds through the windshield in a volley that contributed to the deaths of two black people in 2012.
Brelo's shots were among the final ones fired in a 22-minute police chase described by prosecutors as reckless. During the incident, 13 Cleveland officers fired 137 rounds at and eventually killed Timothy Russell and Malissa Williams, who investigators determined were never armed and could have simply been arrested at the conclusion of the chase.
The verdict seemed to many in Cleveland that their police department, recently the target of a scathing Department of Justice investigation that found city police regularly used dangerous tactics and excessive force, will never be held accountable for officers' misdeeds. Hundreds of people took to the streets following the verdict in a march described by Mayor Frank Jackson as predominantly peaceful, although the Boston Herald reported at least 71 people were arrested by the same law enforcement agency they were demonstrating against.
Here are 15 powerful photos showing Cleveland residents standing up for Russell and Williams, as well as other victims of police violence across America.
In December 2014, nine police involved in the incident filed a federal lawsuit against the city, alleging that Cleveland officials have "a history of treating non-African American officers involved in the shootings of African-Americans substantially harsher than African-American officers."