13 Photos Of Gloria Steinem and Feminists Marching From North to South Korea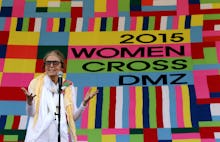 An international group of feminist activists whose numbers included legendary American journalist Gloria Steinem crossed one of the Cold War's last remaining hotspots Sunday, marching through the demilitarized zone between South and North Korea in a protest against the two countries' 70-year official state of war.
CNN reports that the 30 activists, members of a group called WomenCrossDMZ, also included among their numbers Nobel Peace laureates Mairead Maguire of Northern Ireland and Leymah Gbowee of Liberia. According to MSNBC, the women had asked the Koreas to allow them to cross the official demarcation line but instead were allowed to ride a bus from North to South Korea through the DMZ.
While in North Korea, the activists told CNN they worked as "citizen diplomats" who addressed women during meetings there.
"It was an enormous, enormous triumph," Steinem told ABC News of their journey into North Korean territory. "We feel very celebratory and positive that we have created a voyage across the DMZ in peace and reconciliation that was said to be impossible."
"It's a very repressive country, but it was great for us to go there ... and have some real dialogue and some interactions with women," Medea Benjamin, cofounder of the advocacy group Code Pink and protest member, added. "I met women who've never met an American before in their lives and they had such terrible ideas about us and we became close friends. We were all crying when we left this morning saying goodbye."
Here are nine evocative photos of the historic event, which if nothing else, made a hard-to-ignore statement about the need for peace:
However, the group was met by a smaller conservative counter-protest:
Earlier this month, the North Korean government claimed to have the ability to manufacture miniaturized nuclear weapons, which if true would indicate the state has crossed a major technical hurdle preventing further development of intercontinental nuclear weapons.