5 Shocking Facts About the Way the U.S. Really Treats Its Veterans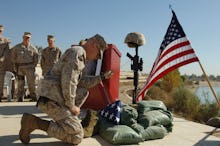 While the difficulties facing American veterans have eased significantly from their peak during the closing years of the wars in Iraq and Afghanistan, former members of the U.S. military are still not often treated with the respect and resources they deserve. It's the result of a decades long legacy of neglect that stretches back to the Kennedy administration.
This Memorial Day, take the time to educate yourself about the way the U.S. treats the soldiers who paid the price for our wars with blood, sweat and tears.
1. Recent veterans have a suicide rate 50% higher than the general population.
A recent large-scale study undertaken by the National Institute of Mental Health reviewed the records of nearly 1.3 million veterans who served in and left the military between 2001 and 2007. Researchers found that 1,868 veterans committed suicide during that period, a rate equivalent to 29.5 per 100,000 veterans or 50% higher than the comparable civilian demographic.
As the Los Angeles Times reports, that is an appalling one veteran of recent wars per day who choose to end their lives. Among the larger veteran population, the Los Angeles Times cited other estimates that approximately 22 per day kill themselves.
2. Many of those killing themselves were stuck in long wait times for mental health care.
Veterans across the country often face excruciating wait times simply to get an appointment with a Veterans Affairs-provided psychiatrist. In 2013, the Atlanta Journal-Constitution found that 372 veterans originally scheduled to receive mental health care at the Atlanta VA Medical Center who had been referred to outside treatment facilities actually languished in queues that lasted three months on average. Two committed suicide while waiting. A larger review found that up to 1 in 5 of 4,000 vets referred to outside treatment never actually received any outside care.
While some states like New Mexico have begun offering free mental health care for veterans, many former service members still find it difficult to get help. Many veterans report that the services they do actually receive for ailments like post-traumatic stress disorder are inadequate, with one American Legion survey finding that 59% of veterans feel their PTSD symptoms have not improved or gotten worse despite a 61% increase in the VA's mental health care budget since President Barack Obama took office.
3. Wait times for other basic medical services are still absurd.
Despite widespread attention to veterans' health care following the Veterans Affair scandal in 2014, in which 18 vets who were shuffled off a Phoenix-area waiting list died, many veterans still struggle to even get a simple appointment, let alone specialist procedures or cutting-edge treatments.
In March, a CNN investigation found that patients in the VA Greater Los Angeles Healthcare System often waited months to see a physician, identifying 12,700 cases in which veterans waited over 90 days to see a doctor. Sixty-four veterans had been waiting six months to a year. Similarly to the Phoenix-area scandal, CNN alleged that VA administrators had attempted to cover up long wait times and misrepresent the number of patients they affected.
Nationally, a USA Today published an investigation in November 2014 that found that 600,000 veterans or 10% of the total VA patient load waited at least a month to get an appointment at a hospital or clinic. While the number of worst-case scenarios (those waiting long than four months) had dropped a sharp 57% since May, some facilities such as those in Jacksonville, Florida, and Baltimore, Maryland, still had average wait times well over 60 days for basic primary care.
4. Homelessness among veterans is extraordinarily high.
According to the National Coalition for Homeless Veterans, roughly 12% of the adult homeless population are veterans, and around 50,000 veterans are homeless on any given day. The group further alleges that 1.4 million vets "are considered at risk of homelessness due to poverty, lack of support networks, and dismal living conditions in overcrowded or substandard housing."
While the Obama administration has pushed considerable resources into ending homelessness among veterans, there simply aren't enough resources in the system to house everybody. Al Jazeera America reported in March that efforts to place homeless vets in homes have come at the cost of resources for other homeless people and families. In Los Angeles, the Los Angeles Times reports that the number of homeless vets has actually increased since last year.
5. Unemployment among recent vets is much higher than in the general population.
The number of veterans without jobs has fallen sharply in recent years, thanks in part to aggressive action by the Obama administration to hire more former soldiers for federal jobs. According to the Washington Post, the Office of Personnel Management data shows that 33% of all new hires in 2014 were veterans.
But post-9/11 veterans still struggle with an unemployment rate standing at 7.2% as of March, and the Call of Duty Endowment told Reuters that male veterans aged 18 to 24 suffer from a staggering 17.3% unemployment rate. In 2011, post-9/11 veteran unemployment peaked at nearly 12%.
According to research from the RAND Corp., veteran unemployment is not the result of higher rates of disability among veterans, but rather likely due to lengthy job searches after soldiers leave government employment.