15 Photos of the Memorial Day Ceremonies Happening Across the U.S. Right Now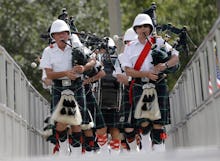 For the first time in 14 years, Americans across the country observed the sacrifice of slain U.S. military personnel on Memorial Day without U.S. ground forces simultaneously fighting in a major theater of operations.
President Barack Obama spoke at Arlington National Cemetery and laid a wreath at the Tomb of the Unknown Soldier there, accompanied by an honor guard.
According to Time, the POTUS told 5,000 attendees that fallen soldiers' sacrifices are "a debt we will never repay," adding that "This hallowed ground is more than a final resting place of heroes. It is a reflection of America itself. It is a reflection of our history." The magazine added that Obama went out of his way to observe the deaths of Spc. Wyatt Martin and Sgt. 1st Class Ramon Morris, who were the last U.S. soldiers to lose their lives during combat operations in Afghanistan.
Former President George W. Bush and his wife issued a brief statement via the George W. Bush Institute, writing that "Laura and I join our fellow citizens in honoring the courageous souls who have given their lives in defense of our country. Today our hearts go out to America's Gold Star Families, for whom every day is Memorial Day. We honor your loved ones and thank you for service and sacrifice."