J.K. Rowling Just Dropped Some Epic Tweets About Equality That Everyone Needs to See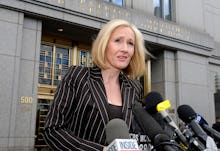 J.K. Rowling, the author who cast a spell on the hearts of a generation with the Harry Potter series, never seems to get tired of being an all-around winner on the Internet. 
When news emerged Saturday that Ireland would become the first country to legalize same-sex marriage through a popular referendum, Rowling took to Twitter to express her official approval and endorse what would almost certainly be the most celebrated paring in all magical literature. 
While Gandalf is not gay, the celebrated Lord of the Rings character became something of a gay icon after the role was played on screen by noted out actor Sir Ian McKellen.
Rowling's almost legendary Twitter account lends one of the most powerful voices of support yet to rapidly expand approval for LGBT rights around the world. While Ireland's vote was a milestone, the country was still late to the party relative to some of its European neighbors. 
Belgium and the Netherlands led not just Europe, but the world, when they enacted marriage equality more than a decade ago. Spain followed in 2005 before Norway, Sweden, Portugal, France, Great Britain and Denmark all took the plunge. Outside of Europe, a majority of American states have now legalized same-sex marriage, with the U.S. Supreme Court presently considering whether to mandate it throughout the country. In addition, an array of other nations from New Zealand to South Africa to Uruguay have also embraced marriage equality. 
Rowling has long been a champion to gay muggles around the world with her steadfast support promoting their civil rights. Much has come through her public statements as well as her active social media presence. In 2007, Rowling revealed that the much-loved headmaster of Hogwarts, Albus Dumbledore, was gay and has been zealously defending him against Internet trolls ever since. In the run-up to the Irish vote, Rowling also took time to remind the world about the under-observed Harvey Milk Day, which recognizes the accomplishments of the early U.S. gay rights activist Harvey Milk.  
Rowling is a voice for millennials more powerful than almost any other. After winning a generation's hearts with her popular novels, she has continued to be a champion their hopes and aspirations. The causes she stands for resonate with millennials and are ones everyone should be talking about.