17 Stunning Photos of the Devastating Floods That Ravaged Houston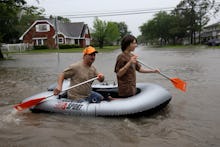 Over the weekend, Texas and Oklahoma were hit by torrential downpour and tornadoes that caused flooding in both states and killed at least five people with 12 missing and 30 million vulnerable to the storms. Hundreds of homes have been destroyed, and thousands of people displaced. 
One of the cities particularly devastated by these storms is Houston. Road travel was strongly discouraged and flash flood warnings were in effect as of Tuesday morning. 
In less than a day, Houston received approximately 5 to 8 inches of rain as main roads were inaccessible because of flooding, and more than 80,000 people had power outages. Houston was also hit by a tornado Sunday.
On Monday, 37 counties throughout Texas, including the Houston metro area, were declared to be under an emergency disaster, "allowing the state to use all the resources 'reasonably necessary to cope with this disaster,'" according to CNN.
On the outskirts of Houston, roughly 400 homes have been evacuated in the area around the Louis Creek Dam as many now fear the dam will breach and cause even more devastation.