This Guy Just Flew a Record-Breaking Distance on a Real Hoverboard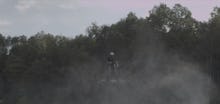 A Canadian inventor just flew a hoverboard 905 feet 2 inches — more than the span of three football fields. 
In order for pilot and hoverboard creator Catalin Alexandru Duru to claim "farthest flight by a hoverboard" in The Guinness Book of World Records, he needed to beat the previous record of 164 feet. And he totally smashed it.
Sure, his ride is a little more complex than the high-tech skateboard Marty McFly rides in Back to the Future Part II, but it's an enormous development nonetheless.
Duru's invention is different from the Hendo hoverboard, which uses a magnetic field to lift riders 5 centimeters off the ground. The record-breaking model, which Duru says was built over the course of a year, uses a propeller system, making it look like a cross between a quadcopter drone and the Green Goblin's glider from Spider-Man. It can travel at roughly 16 feet above any surface. In this test, that surface was Lake Ouareau in Quebec, Canada.
According to Guinness, Duru said, "I wanted to showcase that a stable flight can be achieved on a hoverboard and a human could stand and control with their feet."
It's an incredible foot forward in the future of travel. Watch the full video below:
h/t Guinness