Chance the Rapper Released the Perfect Feel-Good Song Over Memorial Day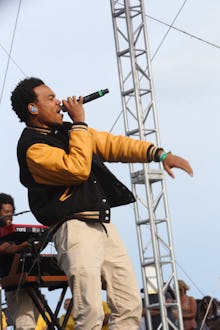 Nearly four weeks ago, Chance the Rapper told a crowd at a Michigan State University concert that his next album, Surf, would be dropping in "less than a week." That didn't happen. But over Memorial Day, Chance dropped a new song entitled "Hiatus (Broadcast)." It drips with Chance's signature blend of goofy and positive hip-hop soul.
Source: Soundcloud
The song clocks in a little over a minute, and it clips off right as Chance starts to build some momentum behind his flow. It still has its fair share of fascinating, tongue-twisting lines — "Moisten this soil and plant sequoias that's tall enough that they spoil your plot" — in addition to some intriguing fills and flexibility from Chance's band, the Social Experiment.
Fans should expect a lot more of both from the full length LP Surf, which should be dropping any day now. It will highlight the songwriting of the band's trumpeter, Donnie Trumpet, but the creation process has involved every member of the band, and more. "Every record has like 50 people on it," Chance the Rapper explained to Fader in January. "The idea is to make a singular, four-minute-and-30-second song that feels like a year's worth of music."
Fans could not be more ready to hear what the band has cooked up. Hopefully, "Hiatus (Broadcast)" will hold them over until the time is right.
h/t Stashed