Meet the Designer Creating the First 'Alternity' Maternity Line for Genderqueer Parents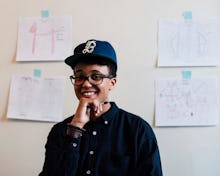 This fashion line is queering motherhood right from the beginning.
Some expecting parents would rather forgo the ruffly dresses and pink bows, which is why ButchBaby & Co., an "alternity" line for genderqueer people, trans men and masculine women that fits with their bodies, gender expressions and identities, was born. 
CEO and founder Vanessa Newman and design partner Michelle Janayea infused contemporary androgynous design into pregnancy wear to meet the growing market of the LGBT family. 
"Our clothing is intended for any type of individual who wants to carry a child, regardless of gender identity, presentation, sexual orientation, class — we're inclusive of all child bearers," Newman told Mic.
ButchBaby's creators plan to fund an eight-piece "back to basics" collection, including items like boxer briefs and a nursing sports bra, through a crowdfunding campaign set to premiere in August. The company, Newman contended, affirms that motherhood and femininity are two separate things. 
"I think that we're moving towards a world where butch and masculine women will feel empowered to claim what their idea of motherhood is for themselves and I only hope that brands like ours and others to emerge will be able to cater and support whatever motherhood or parenthood looks like to each individual," Newman said, "whether it be being a mother in the way the dress or in the name they want to be called to the way they see themselves as a child bearer to the way they raise their children see them."
"We're totally 'queering' motherhood."
Essentials for any child-bearing parent: A few years ago, the now 20-year-old Newman wondered what it would mean for her, a black masculine-presenting lesbian, to become a mother. At that time, the increasing visibility of LGBT families across the nation made Newman "really excited," she said, about "knowing that starting a family with another woman was something other successful women were doing and I could do too."
The idea for Butchbaby & Co. was almost instantaneous. "As I began to recognize that there were queer mothers," Newman said, "I also began to see that there weren't any markets catering to us — from same-sex advertising or outreach to actual products for women who may not identity as super feminine."
Hoping the line will embody a "perfect trifecta between men's wear, women's wear and pregnancy wear," Newman said the sample line consists of eight "wardrobe essentials: a button up, pullover and jeans for work; a T-shirt, sweats and hoodie to take it easy on the weekend; a sports bra and boxer briefs to be comfortable at any time of the day." There was a deliberate refusal of what Newman calls "hyper-feminine colors," scoop-neck shirts and designs flourishes like ruffles.
Redefining "motherhood": People don't need to compromise their gender to become parents. Newman insisted that an additional part of "queering motherhood" also entails changing how we view motherhood to make it more inclusive of queer bodies that prefer terminology other than "mother" and "mom." 
The effort, she said, is to "allow a space for butch and queer mothers to create dialogue and talk about that gender play and experience and what works for them so that others can feel comfortable and not alone not wanting to be called 'mom' or feeling not masculine enough for 'dad' and figuring out what works for them with a community of people going through the same thing."
What is certain is that Butchbaby & Co. reflects a larger cultural shift away from rigid gender binaries, especially when it comes to fashion.