This Video of Josh Duggar Joking About Incest Is Now More Disgusting Than Ever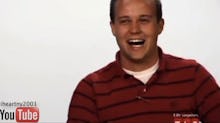 The hole for Josh Duggar, star of the TLC show 19 Kids and Counting, became a little deeper over the weekend after video emerged of an incest joke he made in 2008. In the video, the eldest Duggar child jokes about going on a double date with his sister Jinger and two of their other siblings. Duggar then made light of the incestuous overtones with a jab at an outdated and offensive Southern stereotype.
The joke takes on disturbing new relevance after revelations last week that Duggar sexually molested a number of underage girls, including members of his own large family. Duggar, who is also an outspoken evangelical Christian, saw his career swiftly unravel before Memorial Day weekend, with TLC announcing his family's show would be suspended indefinitely. Duggar also resigned from his position as an executive director of the Family Research Council, a noted religious lobbying (and hate) group.
With the sordid affair now painfully on display, Duggar and his family's past comments have received fresh scrutiny. In addition to his one-off joke about incest, a 2014 Cosmopolitan interview has also resurfaced. In the interview, Jessa Duggar spoke about keeping her virginity until marriage, but that her brother had been there to help her when it came to kissing.
So you've never kissed anyone?
A year ago, Jessa's comments might have been endearing. Cosmopolitan certainly didn't think much of it, with their headline choosing to highlight how the girls accidentally tried alcohol. In light of Josh's disturbing past, however, Jessa's light-hearted remarks take on painful new meaning. 
Throughout the course of events, Duggar has has supporters, mostly fellow evangelicals. Another member of the family's religious sect dismissed Duggar's actions as harmless saying he was just "playing doctor," while Jessa's father-in-law posted on his blog, "Many times it is simply lack of opportunity or fear of consequences that keep us from falling into grievous sin even though our fallen hearts would love to indulge the flesh," Inquisitr reported. 
Even former Arkansas governor and Republican presidential candidate Mike Huckabee weighed in on Facebook. In a lengthy post, Huckabee brushed away the potential felonies Duggar committed saying, "good people make mistakes."  
Sexual assault is indefensible. Defending it in any form or downplaying it as a "mistake" does a disservice to victims everywhere and puts the focus on abusers rather than on making sure their crimes are not repeated.