Chrissy Teigen and John Legend Demonstrate Exactly How To Spend a Long Weekend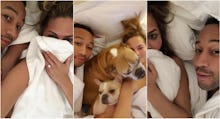 Forget barbecues. Screw family reunions. Day trips upstate are overrated. The best way to spend a long holiday weekend with your significant other is obviously in bed, doing literally nothing.
That's the life lesson we take from Chrissy Teigen and her hubby John Legend (just one of many the pair have taught us). Teigen took to her endlessly entertaining Twitter feed on Sunday over Memorial Day Weekend with live updates of her weekend adventures with Legend, which consisted of cuddling, more cuddling, even more cuddling, then pizza.
As Tumblr user IWonderlandIAm put it, "Relationship goals to the max ??"
Teigen's never really been too secretive about her intimate life with Legend (she quipped onstage at the Billboard Music Awards earlier this month, "I bang a musician"). Even better is that her Twitter feed is filled not only with shout-outs to her husband, but with what we can only describe as "homebody porn" — photos of her cooking, watching TV, playing video games, hanging with her dogs and, yes, cuddling in bed with John. 
Because as much as going out on "dates" with your S.O. keeps the spark going, so does staying in, snuggling and getting tons of sleep — even science says so.
Yet again, Teigen and Legend demonstrate #relationshipgoals we can all aspire to. Just one lingering matter we could use advice on: How do you eat all that pizza on white sheets without making a mess?
h/t InWonderlandIAm.tumblr.com