These Are Netflix's Top-Rated Original Series in Order of How Much Users Like Them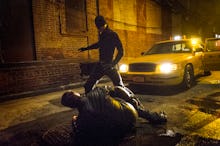 Leave it to a superhero to fly to the top of Netflix's original series user rankings.
A month and a half after its release, Marvel's Daredevil has earned the highest rating of any of the streaming service's original American series. The show earned 4.6 stars out of a possible 5 from a pool of over 2.3 million user ratings. The next-closest Netflix original series is three-season favorite House of Cards with 4.5 stars. 
Yet when one stacks each show up against each other, the results are not quite what you'd expect.
For example, though Bloodline is a quiet, moody thriller without the thrill, and Unbreakable Kimmy Schmidt is a bottle of pure joy, both original series have the exact same user rating. Arrested Development may have recently been unofficially renewed for a fifth season, but the controversial fourth season clearly did nothing for the onetime fan-favorite's popularity. It now ties with the all-but-forgotten Hemlock Grove as the second-lowest rated series.
The lowest-rated series, BoJack Horseman, was also received poorly among critics. Like HBO shows, however, it's rare that a Netflix series doesn't get at least a second season; the animated series' sophomore run comes out July 17.
Overall, dramas fared better than comedies, with Grace and Frankie and Kimmy Schmidt getting beaten out by four different dramas and a documentary series, Chef's Table. (Though Orange Is the New Black has comedic elements, the Emmys have ruled it a drama.) These comedies may be buzzier than series like Marco Polo, but that buzz doesn't necessarily translate into user appreciation.
By comparison, series like Mad Men and Parks and Recreation that fared decently during their original runs did well among Netflix users, each rating 4.1 out of 5 stars. Perplexingly, TV ratings sensations like Friends and Grey's Anatomy earned only 3.9 stars from the service's users.
So user ratings aren't quite correlative to ratings performance on a traditional network or cable. It's about the closest thing we have, however. Since there is no viewership data available to the public, it's hard to tell exactly how well Netflix's original shows are doing. 
Variety released a research firm's report last month that purported to show what Netflix's traditional ratings might look like. Though the firm's report was unofficial, it did reveal that Daredevil, House of Cards' third season and Unbreakable Kimmy Schmidt all performed well among viewers in their first month of release. For example, over 10% of Netflix's subscribers watched at least one episode of Daredevil in the show's first 30 days on the service. By contrast, only 2.4% sought out Bloodline.
Though there are still mysteries to Netflix, one thing's for sure: Daredevil, despite its dated, dark-and-stormy approach to the superhero genre, is a big fat hit. Marvel and Netflix, who have at least three other series coming down the pipeline, are surely thrilled — fans should be too.