Over Memorial Day Weekend, Baltimore Set a Record for Its Deadliest Month Since 1999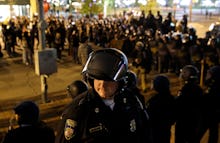 While Americans were enjoying their Memorial Day weekend, a wave of shootings and murders in Baltimore set a record for the city's deadliest month in 15 years. Local CBS station WJZ reports 29 people were shot and nine died in one of the bloodiest weekends in recent memory.
According to the Baltimore Sun, two additional homicides on Monday brought the body count throughout the city in May to 35, the highest single-month death tally since 1999 — and the month isn't over. In total, 108 people have been killed in Baltimore since Jan. 1, making for a homicide rate of roughly five per week.
The background: According to the Sun, this year's violence is reminiscent of the 1990s, when the city's annual homicide totals would regularly reach 300 or more. 
"It's deplorable," City Councilman Pete Welch told the Sun. "The shootings and killings are all over the city. I don't think any part of the city is immune to this. I've never seen anything like it."
One person in the Govans neighborhood of Baltimore told WJZ, "It's scary because I've got kids. I don't want anything to happen to my kids, especially around here. It's a peaceful neighborhood."
City officials such Police Commissioner Anthony W. Batts typically blame violence on organized drug gangs, but Johns Hopkins University gun violence expert Daniel Webster told Slate that murders in the city are just as likely to happen over petty personal disputes as "typical gang business" like turf battles.
Why you should care: In a city like Baltimore, which in the second half of the 20th century lost more than 75% of its industrial workforce and experienced some of the worst white flight in the country, there are no easy answers to endemic violence. But in the wake of the Freddie Gray protests, many residents are skeptical that policing alone can keep the city's streets safe.
Councilman Bill Henry told the Sun that continued violence in the city is the result of "a generation of disinvestment in the human capital of Baltimore." He added that aggressive police tactics aren't and can't be the solution to the city's current woes.
"Paying the police $400 million to move them along isn't accomplishing anything more than pouring $400 million down a hole," Henry told the paper. "If we are not willing to acknowledge that, then we are just fooling ourselves."