B. B. King's Daughters Allege He Was Poisoned by His Manager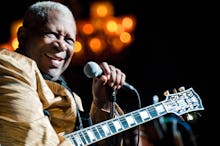 Nearly two weeks ago, the world lost a blues legend, and a family lost a father. The official and most probable report is that 89-year-old B.B. King died peacefully in his sleep in his Las Vegas mansion. However, his daughters are alleging otherwise.
"I believe my father was poisoned and that he was administered foreign substances to induce his premature death," two of King's daughters, Patty King and Karen Williams, wrote in separate, but identical affidavits issued this past weekend. "I believe my father was murdered."
King may not be able to rest in peace just yet — but the allegations seem like an effort to capitalize on a legend's death.
The allegation: The daughters are pointing their fingers at Louise LaVerne Toney, King's business manager, and Myron Johnson, King's personal assistant.
"I witnessed Louise Laverne Toney and Myron Johnson, who are medically unlicensed, administer medications, fluids and foreign objects to the person of Riley B. King," the daughters' affidavits read. They claim that Toney and Johnson had King sequestered from family members for a week prior to his death, and that Toney was "non-transparent" with the substances she gave him.
Nevada coroner John Fudenberg told CNN there is "no evidence to substantiate the allegations." But his office is looking into it, and it will take six to eight weeks to confirm with a full forensic report. Las Vegas police are not currently performing a homicide investigation. And the forensic investigation will not delay King's funeral scheduled for this weekend.
Toney also does not seem perturbed. She declined to comment, but she did tell the Associated Press, according to CNN, "They've been making allegations all along. What's new?"
Power struggle: The move can be viewed as the latest in a series of attempts by the daughters to wrest control of their father's estate from Toney, who has power of attorney over King's affairs.
According to the Associated Press, a week before King's death, Williams' requested to take over as King's guardian, only to have a Las Vegas judge dismiss her request. And again on April 29, a petition alleged large sums of money were missing from King's bank account and that Toney had been putting her own family members on King's payroll. Yet neither allegation was substantial enough to dismiss Toney's power of attorney.
Even after the investigation and decision not to dismiss Toney, the daughters remained determined to discount her. "We lost the battle, but we haven't lost the war," Williams said, according to the Associated Press. Once the poisoning accusations are confirmed or denied, King's memory will hopefully be able to rest in peace.
The empire King built: The cynical view is that this is a money-grab. According to CNN, King is believed to have died with millions to his name. He certainly worked for it throughout his life.
King grew up in a poor, sharecropping family in Mississippi. He taught himself to play the guitar, developing a style emphasizing pure, expressive single notes rather than chords. In 1947, he hitchhiked to Memphis with $3 in his pocket, where he got his first big break on Sonny Boy Williamson's Memphis radio program the following year. He soon became one of the most dedicated bluesman in the business, some years playing shows most nights, touring right up through 2014. The legend had two No. 1 hits on the R&B charts, "Three O'Clock Blues" and "You Don't Know Me," as well as a crossover hit with 1970s "The Thrill Is Gone," which rose to No. 15 on the Billboard pop charts.
"There are not many left who play [blues] in the pure way B.B. did," Eric Clapton said in a Facebook video tribute to the legend. "He was a beacon for all of us who loved this kind of music, and I thank him from the bottom of my heart."
King's daughters' allegations will hang heavily over King's funeral service, which is expected Saturday. It will follow a public viewing Friday in Indianola, Mississippi. Hopefully, the investigation proceeds quickly and cleanly, and King can soon be laid to rest to enjoy the peace he deserves.
h/t BBC