These Texans Lining Up to Adopt Dogs After the Floods Will Restore Your Faith in Humanity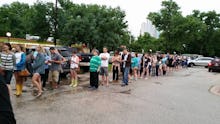 Texas and Oklahoma were hit by heavy rainfall and tornadoes over the weekend, resulting in severe flooding that led to five deaths, a dozen people missing, hundreds of homes destroyed and power outages affecting 80,000 people. While the human toll has been devastating, another group is also receiving the help they deserve: animals. 
Around the city, various animal shelters were either rendered incapacitated or overcrowded due to the floods and their resulting chaos. Town Lake Animal Center in Austin, Texas, was completely uninhabitable and had to evacuate around 60 dogs to the East Austin Animal Center on Monday.
But when Austin animal shelters appealed to the local community for much-needed temporary or permanent pet adoption, people stepped up, even waiting in long lines to help. This image of people lining up outside the shelter started going viral on Reddit Monday night. 
One user posted this image to Austin Pets Alive!'s Facebook page with the caption, "All of these fosters coming to help are amazing!!!"
In response, the Austin Animal Center thanked everyone for lining up at Austin Pets Alive! and explained their current predicament. 
Austin Pets Alive! shared pictures of the damage on Monday to explain to the community why they so desperately needed their help.
The center was overwhelmed by the support people offered, particularly during such a chaotic time.
Austin Animal Center will be closed on Tuesday and Wednesday for intakes, but is open for adoptions, waiving all associated fees in order to encourage fostering. 
AAC is also using social media to try and reconnect pets who got separated from their owners during the storm.