The Story of How Paul Walker's Legacy Is Being Remembered Will Make You Miss Him Even More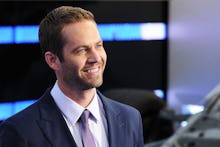 The news of Paul Walker's death shocked the world. How could it not? This was a young actor and star of one of the biggest film franchises in the world, and suddenly he was gone. The tragic details of his final moments made the news all the more unsettling. How could this happen? After some time passed, the question turned: How would he be remembered?
Since his passing, Walker's reputation has been elevated from a likable actor to near-sainthood. There's something about his story that's struck a chord with fans — and helped to keep his legacy alive even now. Here are a few of the people and ways Walker is being remembered in 2015.
His own brothers: When Walker died, he was partially finished with shooting Furious 7. To give fans the closure they needed, his brothers Cody and Caleb stepped in to act as body doubles. "Having them on set has made us all feel that Paul is with us too," director James Wan said of the decision in a public note. It was the kind of decision that, without their involvement, could have come off as tacky. Instead, it felt like a natural course of action.
That's not all they've done, however. Cody Walker stepped into a leadership position with his brother's organization Reach Out Worldwide, a disaster relief group, to keep it going. 
"He was very proud of ROWW and the incredible people he had surrounded himself to make up that team," Cody told People magazine. "I'm just doing the best that I can to keep his vision consistent." 
Vin Diesel: Before, during and after the Furious 7 press tour, Diesel has kept Walker in mind. He's paid tribute to his friend at screenings. He named his daughter Pauline as a remembrance of Walker. He's even sung karaoke in Walker's honor as recently as last week, when he performed Tove Lo's "Habits (Stay High)."
In a video post on Facebook, Diesel called it "the ever-continuing process of healing." That's perhaps the best reason why his elegies for Walker are resonating: He, like fans, is still coping. This doesn't feel like a stunt or publicity. He's just sharing in the emotions everyone else is feeling. A karaoke cover on his Facebook page might seem silly, but in his own way, Diesel is helping everyone process and move on.
Wiz Khalifa's "See You Again": Perhaps the most visible tribute to Walker has come in the form of Wiz Khalifa and Charlie Puth's chart-topping song "See You Again." The song, part of the Furious 7 soundtrack, has become something of a goodbye anthem for Walker. Though Puth actually wrote his part of the song when thinking of a deceased friend of his, "See You Again" resonates for Walker and his relationship with his friend Diesel.
For that reason, Diesel has sung the song at several different occasions, to the Internet's collective joy every time. It's a cathartic thing to watch, Diesel singing to Walker. While the actor may not have been a legend in life, he's destined to be remembered as one in death — and beyond. After all, as Puth sings on the song's chorus, "We've come a long way from where we began / Oh I'll tell you all about it when I see you again."